Robert Henry Deugo J15076
December 25, 1921 - July 20, 1943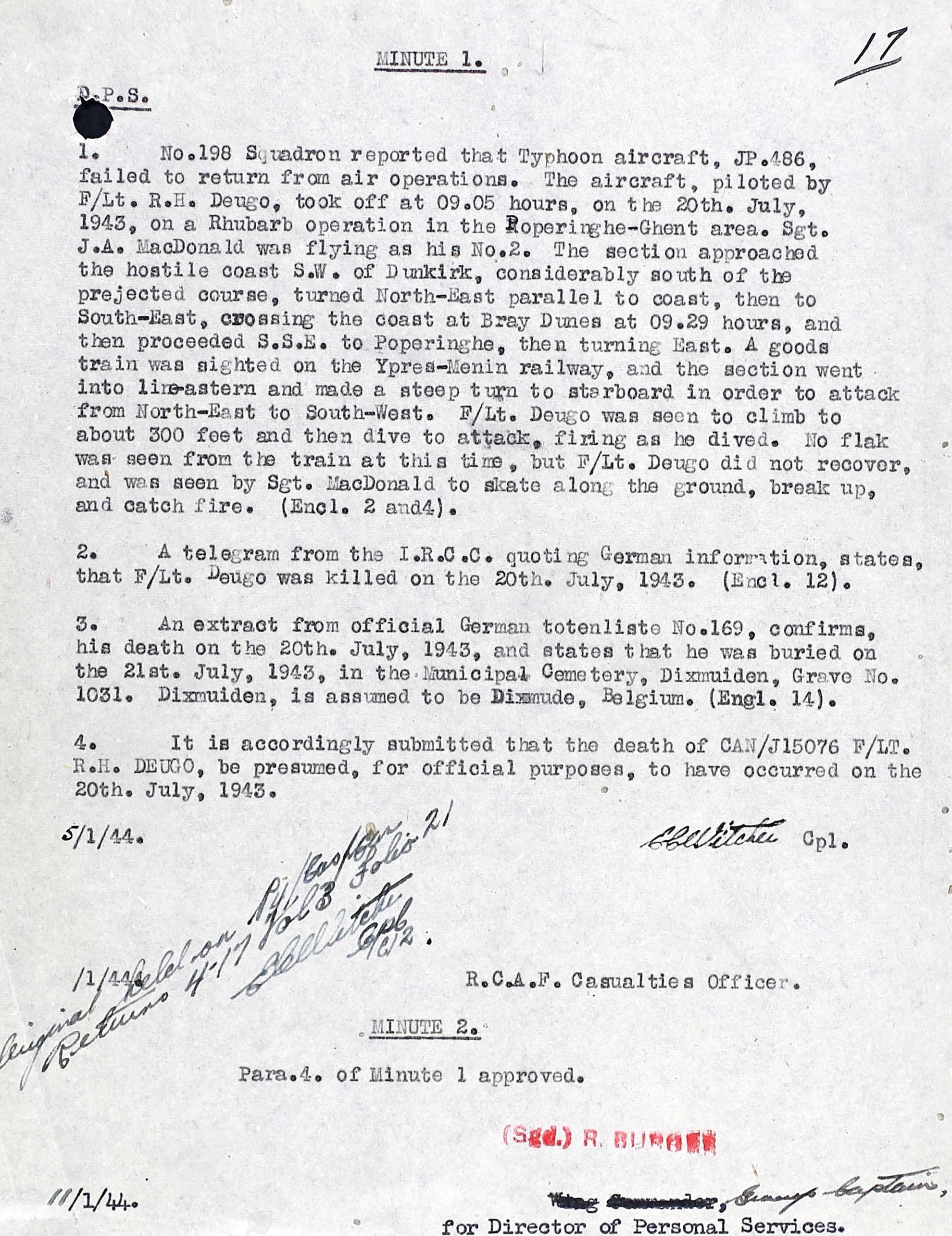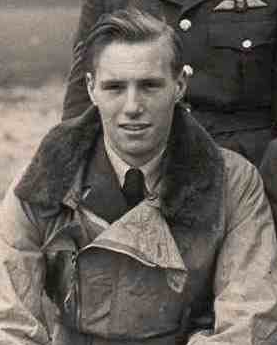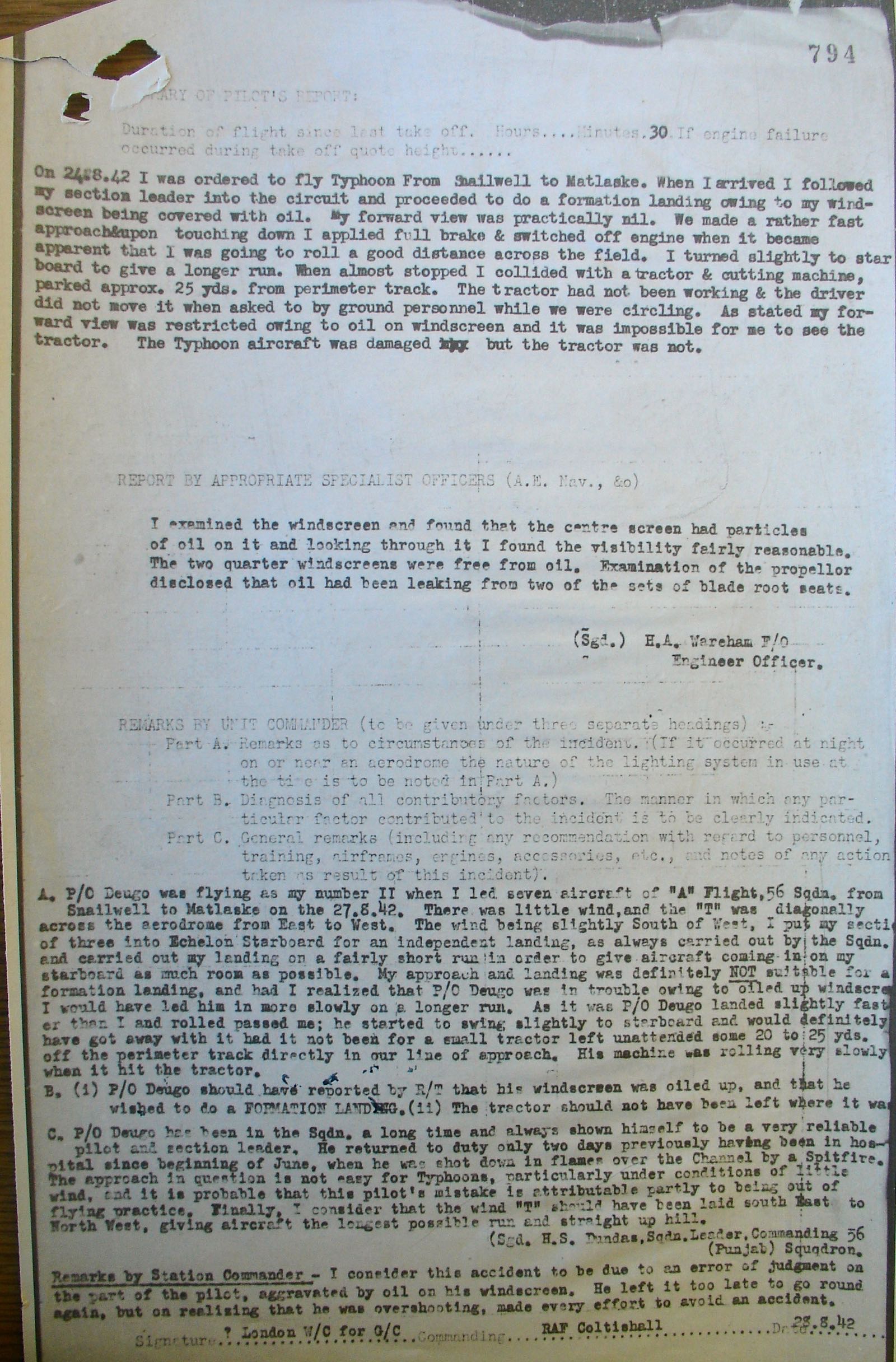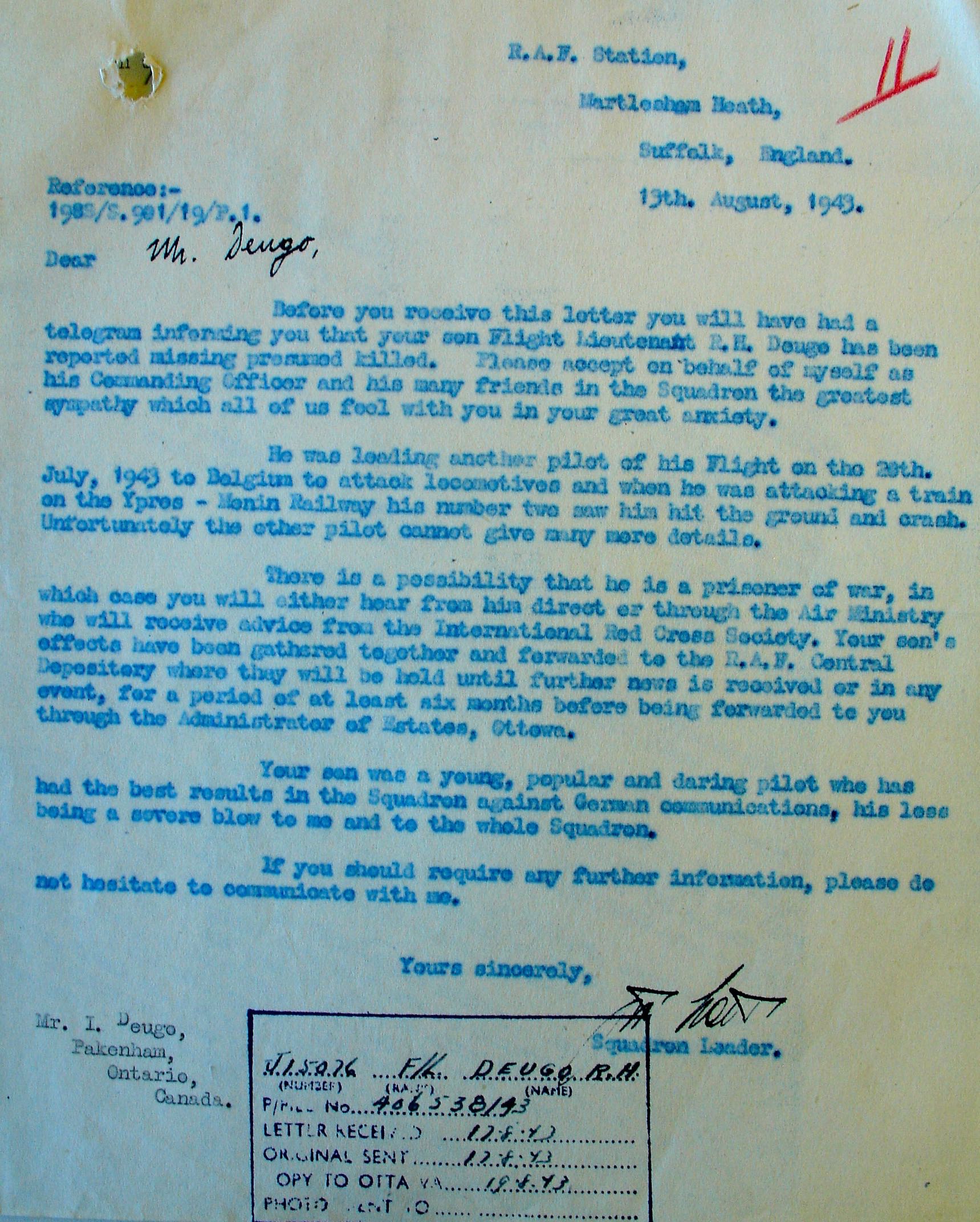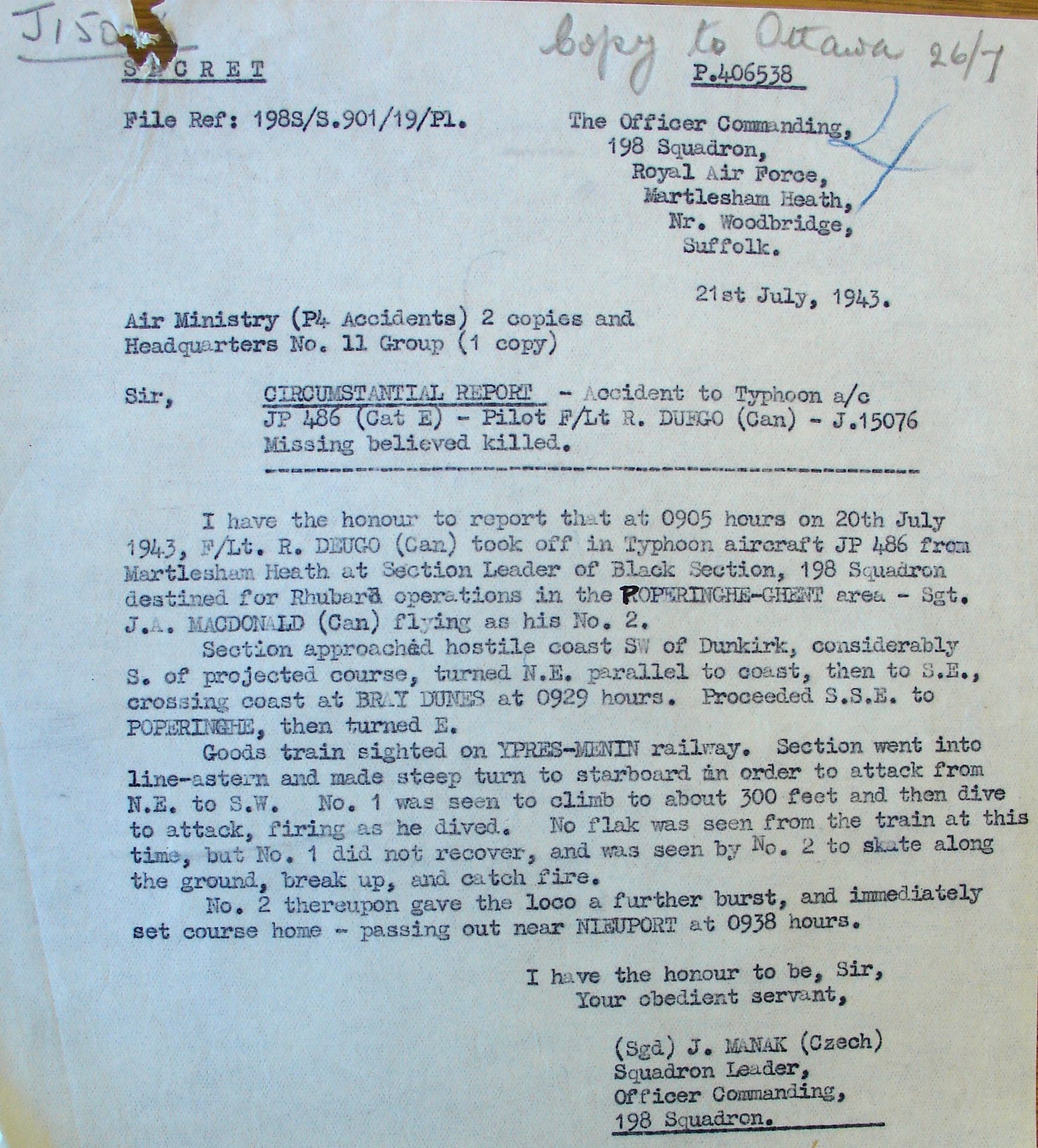 RAF 198 Squadron
Robert Henry Deugo was the son of Ira Edmund (labourer, foreman on Lanark County roads) and Dorothy (nee Fulton) Deugo, of Pakenham, Ontario. He had three brothers, with Roy Edmund, 24, overseas. Donald and Douglas were 12 and 10. The family was Anglican.
Deugo was a baker then a clerk with Connor Sutton during 1938 to 1940, in his spare time and holidays. He was unemployed due to lack of work at the store and there had been a reduction in staff. He liked hockey (played with Upper Ottawa Intermediate hockey team), tennis, swimming. He studied the radio in his spare time and he liked to make models. He initially wanted to apply to be an air gunner. "I am a crack shot and have won many contests. I understand the working order and firing of almost all guns," he wrote on his attestation papers in April 1940 in Ottawa. "Dr. W. W. Buttle says he has known him from birth, is of good character and average ability, comes from an honourable family and is entirely trustworthy." Also noted on the form: Dress: "Conservative, poorly dressed, but clean and neat." He was recommended for Air Gunner.
His journey through the BCATP started in June 1940 in Toronto, then to Windsor Mills, Dunnville, and Debert. He received his Wings February 10, 1941. By March 19, 1941, he was in the United Kingdom. He was at 59 OTU May 1941 and sent to 56 Squadron in November 1941. By December 17, 1942, he was with 198 Squadron.
He was considered Service Pilot material. He was posted to No. 1 ITS from No. 4 EFTS because he failed the navigation test.
He was at 56 Squardon by November 25, 1941 and taken on strength with 198 Squadron on January 23, 1943.
On June 1, 1942, Deugo was on patrol in Typhoon 1B R7678 when they were attacked and shot down by Spitfires of No. 401 Squadron off Dover. F/L Deugo succeeded in baling out, but suffered serious burns. "Shot down in Channel. In water for two hours. Taken to hospital with 1st and 2nd degree burns of the face treated with sulphanilamide powder, tulle gras and saline dressing. Canon shell wound of right thigh and foot cleaned and sutured, and packed with sulphanilamide and gauze....gun shot wound sewn up with silk worm gut....gun shot wound of right foot also sewn with silk worm gut...somewhat depressed but general condition satisfactory. Burned areas of face infected." By June 10, he had B. Haemolytic streps in his face and right leg. Propamidine was applied to all infected areas. By June 20, his wounds were healing well. By June 28, his wounds were considered to be completely healed on his face and neck. He had surgery on July 2, 1942 of his right thigh, with grafts sewn into place. By July 28, 1942, he was transferred to RAF Officers Hospital, Torquay for a period of three week convalescence. He was deemed fit for duty August 20, 1942. His squadron mate, Sgt. Stuart-Turner was killed and has no known grave.
The circumstances of Deugo's crash: "No. 198 Squadron reported that Typhoon aircraft JP486 failed to return from air operations. The aircraft, piloted by F/L R. H. Deugo, took off at 0905 hours, on the 20th July, 1943, on a Rhubarb operation in the Poperinghe-Ghent area. Sgt. J. A. MacDonald was flying as his No. 2. The section approached the hostile coast SW of Dunkirk, considerably south of the projected course, turned NE parallel to coast, then to SE crossing the coast at Bray Dunes at 0929 hours and then proceeded SSE to Poperinghe, then turning east. A goods train was sighted on the Ypres-Menin railway and the section went into line, astern and made a steep turn to starboard in order to attack from NE to SW. F/L Deugo was seen to climb to about 300 feet and then dive to attack, firing as he dived. No flak was seen from the train at this tie, but F/L Deugo did not recover and was seen by Sgt. MacDonald to skate along the ground, break up and catch fire. German sources state that F/L Deugo was killed. He was buried on the 21st of July 1943 in the Municipal Cemetery, Dixmude, Belgium."
LINKS: