Paul Yettvart Davoud C325
November 25, 1987 - March 27, 1987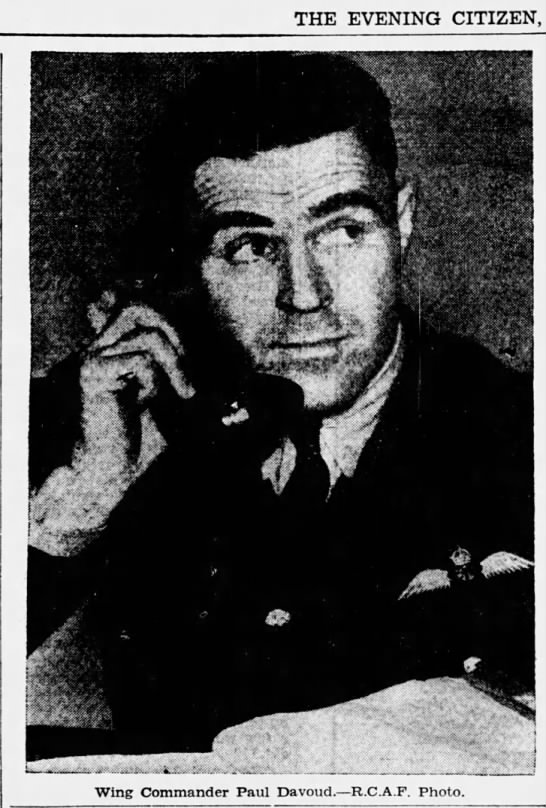 438 Squadron
Paul Yettvart Davoud (1911-1987) Biographical Summary
By David A. Riach
There can be little doubt that Paul Yettvart Davoud (1911-1987) is one of the most significant figures in modern Canadian aviation history. Like many other such figures, however, his story has yet to be fully documented. This is especially so as regards Davoud's family background. While much has been written about various aspects of his career, very little has been done to illuminate the story of his parents – Vahram Yettvart Davoud and Isabelle Constance Tandy – whose life experiences and formative influences had much to do with whom Paul, their eldest son, became as an individual. Next to nothing in the way of a narrative exists on Paul's two younger brothers, Harry Tandy and John Gordon, accomplished individuals in their own right, whose stories help illustrate the core Davoud family values exemplified by Paul – strength of moral character, service, and leadership. Beyond noting that she was the daughter of the Archbishop of Ruperts Land and first stewardess to leave Trans Canada Airlines in order to marry Paul Davoud, very little has been detailed with respect to his wife, Kilby Macadam Harding. However, descended from a Western Canadian pioneer family, she was rather a remarkable individual in her own right and, as such, a vital element in the Davoud story.
Therefore, in putting together this story, substantial effort went into researching the histories of the Davoud, Tandy and Harding families in the belief that doing so provides the context for understanding in all its various dimensions the success Paul Davoud realized throughout his life and career. Undertaking this work required going well beyond the resources available in the Royal Aviation Museum of Western Canada (RAMWC) library, most notably into on-line document and newspaper archives where a wealth of information regarding the Davoud, Tandy and Harding families was found. Embarking on this research path also helped to fill some gaps relative to Paul Davoud's career. Copies of documents from the archives of the Hudson Bay Company in the possession of the RAMWC were enormously helpful and Davide Montebruno is to be thanked for collecting them and bringing them to my attention. Printed materials in the three RAMWC research folders on Paul Davoud also provided useful reference. Although by no means yet complete, the result is believed to be the most thorough account of Paul Davoud's life and career currently available. What follows is a condensed review of the research. Complete details, including references and an extensive bibliography, accompany the full-length text.
Davoud Family Background
The Davoud family descends from a large Christian Armenian community centred in Western Turkey during the latter part of the 19th century. From at least as far as back as Paul Davoud's grandfather, it is a family that has placed a high value on moral character, education, service, and leadership. Davoud's father, Vahram Yettvart Davoud, who immigrated to the United States while still a teenager, exhibited these values even at that young age and would so throughout his life.
Vahram Yettvart (Edward) Davoud - Father
Varham Yettvart Davoud was born in Constantinople on May 25, 1881, to father Ghazaros Abraham Davoud (1851-1897) and mother Perouze Heutir Davoud. The family included three older sisters to Vahram – Yevkine (b. 1872), Nyvart (b. 1876), and Armenouhi (b. 1878). All four children would eventually emigrate – Yevkine to England; Nyvart, Armenouhi, and Vahram to the United States. According to census data later provide by Vahram, the language spoken in the family home was Greek. While little information is available about his parents, of significance is the fact that Ghazaros Davoud was a graduate of Robert College, Constantinople. This was an independent Christian college founded in 1863 by American missionary and educator Dr. Cyrus Hamlin (1811-1900), together with fellow American entrepreneur and philanthropist, Christopher Rhinelander Robert (1802-1878). From its inception, the school was open to boys of all nationalities and within the first few years grew quickly to include Christian students from Turkey, Greece, Bulgaria, Armenia, Syria, Persia, Holland, the United States, and Holland. For many years, Bulgarians and Armenians constituted the two largest groups within the student body. Although students studied their native language and French, courses covering many branches of learning were taught in English. From its inception, Robert College strove to produce young men of high character and leadership potential, and many College alumni did come to the fore in their respective fields, including government, engineering, business, journalism, academia, and the arts. At this point, all that is known of Ghazaros Davoud after Robert College is that he worked as an expert government accountant and appraiser.
The sudden death of his father in 1897, as well as unfavourable social and political conditions within Turkey for Armenians at this time, appears to have been the catalyst for Vahram Davoud to move permanently to the United States. He arrived on September 1, 1897, having sailed from Southhampton, England. According to immigration documents he completed, his last foreign residence was Bourgas, Bulgaria. In the United States, he settled in Hartford, Connecticut with older sister Armenouhi and her husband Samuel B. Donchian, who became Vahram's legal guardian. Donchian had arrived in the United States in October 1883, became a naturalized U.S. citizen in 1890, and applied for an American passport in 1899. When and where Armenouhi Davoud and Samuel Donchian met and married is not clear, but what is known is that Donchian became a very successful rug merchant specializing in floor coverings imported from India, Turkey, Iran, Northern China, and other Asian countries. He was highly respected in Hartford and regarded as one of its leading citizens. The extended Donchian family also demonstrated a commitment to public service and philanthropy.
Immediately upon arrival, Vahram Davoud was enrolled at Hartford Public High School, one of the oldest public high schools in the United States (est. 1638) with a reputation for academic excellence. In keeping with this tradition, Vahram was an outstanding student during his three years there. Moreover, he clearly gained the respect of his fellow students and school faculty. In March 1900, he was named graduating class Valedictorian. Davoud's Valedictory address on June 22, 1900, was entitled "Never Defeated," a tribute to Lord Roberts of Kandahar – Field Marshal Frederick Sleigh Roberts - one of the most successful British military leaders of the late 19th century. In addition to being Valedictorian, Vahram won the academic prize for best mathematical examinations. As well as being an excellent student, Davoud participated in a number of extracurricular activities, including the Speakers, Debating and Glee Clubs. Vahram Davoud was also an outstanding athlete. By the spring of 1900, he was Captain of the Hartford High track team, responsible for organizing and announcing training schedules. At the 10th annual inter-class field day in May 1900, Davoud won the best athlete's cup for breaking two school track and field records: his own in the running broad jump and a longer-standing record in discus throw. His school record in the broad jump still stood almost four decades later.
After graduation from Hartford High, Vahram Davoud chose to attend Yale University, entering the Sheffield Scientific School in the fall of 1900 to study electrical engineering. At Yale, Davoud continued to excel academically. In June 1901, he made the list of honours for excellence in English, French and Mechanical Drawing. The next year, Davoud was on the junior year honours list for excellence in all studies. In February 1903, he was elected to the Yale branch of the Phi Sigma Xi fraternity. This organization was founded in 1886 at Cornell University as an honour society for graduate engineers and scientists. In addition to recognizing excellence in research, the Society sought to promote friendship, cooperation, and mutual support among members. Phi Sigma Xi was thus for science the complement to the Phi Beta Kappa fraternity in the arts. In June 1903, Davoud won two-year honours for excellence in all studies. As evidenced by an essay written in his final year at Yale, he was especially interested in two key issues before electrical engineers at that time - the transmission of alternating current electricity over long distances, and the application of electricity to large-scale railway networks. In addition to his studies, Vahram Davoud was active in Yale athletics as a member of the track and field team. Davoud graduated Yale in the fall of 1903 with a Ph.B. degree in electrical engineering.
Immediately after graduation, Vahram Davoud began his career as an electrical engineer working with companies in upstate New York. This was a time of rapid industrial expansion in the area and electrification was a major impetus to this growth. During the period 1903-1907, Davoud was involved with a number of projects seeking to harness Niagara Falls to supply electrical power to the growing industrial base in and around Buffalo. These included:
Lackawanna Steel Company, Buffalo (1903-1904): Davoud was hired as Assistant to the Construction Engineer at a time of major expansion. Lackawanna Steel was one of the first industrial enterprises in the world to make general use of electricity as primary motive power in all its departments. Given his interest in the application of electricity to railways, Davoud was likely also involved in planned improvements to a system of electric-powered street cars owned and operated by the company for the transport of workers from Buffalo city centre to the plant's West Seneca location.
International Railway Company, Buffalo (1904): Davoud was with this company for only a few months where he was likely involved in plans for a major upgrade of the electrical grid supporting the company's rapidly expanding railway and trolley system in the Buffalo and Niagara Falls region. The IRC was already receiving electricity generated at Niagara Falls and the goal of the project, the centrepiece of which was a new substation built on company property in the heart of Buffalo, was to bring enough power from the Falls to meet rapidly increasing service demand.
Iroquois Construction Company, Buffalo (1904): This company was created primarily for the purpose of constructing a corridor of specially-designed steel towers to carry electric power lines from Niagara Falls to Buffalo, Lockport, Rochester, Batavia, and Syracuse, New York. Work on this project began in April 1904 and would take more than two years to complete. The total length of the corridor from Niagara Falls to Syracuse was 154 miles and included aerial spans across the Niagara River from Canada into the United States. This was an integral part of the strategy by Buffalo industrialists to increase the amount of power being brought to the area from Niagara Falls.
Ontario Power Company of Niagara Falls, Buffalo (1905-1907): Despite its name, this was an American company established in 1903 to build a power station at the base of the Horseshoe Falls on the Canadian side of the Niagara River. Davoud joined the project in 1905 as Assistant Engineer. While he could have been involved in many aspects of this massive undertaking, it seems probable that his primary responsibility would have been the long-distance transmission of electricity generated by the new station. In July 1906, the Ontario Power Company began sending power along the corridor built by the Iroquois Construction Company to north-western New York. Major industrial customers included Vahram Davoud's first employer – the Lackawanna Steel Company.
In January 1907, Vahram Davoud was elected a Junior Member of the Western Society of Engineers in Chicago. The WSE was founded in 1869 as a multi-disciplinary engineering society dedicated to the promotion of excellence and innovation, high professional and ethical standards, and the development of young leaders within the discipline's many fields. A major issue before the WSE at this time was the electrification of Chicago's urban railways which may provide a clue as to the organization's interest in Davoud. However, this was a brief intermediate step, as later in 1907 Vahram Davoud joined the Telluride Power Company owned by American electrical pioneer Lucien Lucius Nunn. This was a watershed moment in young Davoud's career that would necessitate a move across country to Provo, Utah.
In 1890, seeking a more efficient alternative to wood-generated steam power for a number of mines he owned near Telluride, Colorado, L. L. Nunn financed the construction by George Westinghouse of the Ames Hydroelectric Generating Plant on the San Miguel River, San Miguel County, Colorado. This was the first power station in the world to generate alternating current electricity for industrial use. Nunn's work at Ames set the stage for later alternating current hydro-power development at Niagara Falls, and he was hired by the Ontario Power Company of Niagara Falls to design their generating station. Possessing a keen eye for young talent, this is undoubtedly how he came to know Vahram Davoud. Nunn also had an interest in education. In 1890, he created a program combining work and technical studies for aspiring young men working at his Ames generating station – the first industrial training program in the United States.
As his company grew, Nunn began recruiting promising prospects from across the country and training them both in engineering and a broad liberal arts curriculum at institutes attached to his power plants. Known as the Telluride Institute, this program was headquartered at the Olmsted Power Station built by Nunn in Utah's Provo Canyon, near Orem. With Davoud already possessing several years work experience on large-scale projects to go with impeccable Yale credentials and evident leadership skills, Nunn appointed him an instructor at Olmsted. In this capacity, it is known that Davoud wrote a book on hydrodynamics (essentially the study of liquids in motion), as well as a number of other texts which he used at the Institute. Nunn also likely viewed Davoud as an asset to ambitious expansion plans he had in mind for his business. From 1907-1912, the Telluride Power Company set about aggressively implementing these plans which involved the construction of several new hydro-electric stations, pursuit of a franchise as the primary supplier of electricity to Salt Lake City, and the acquisition of existing power utilities, including in neighbouring states. It seems likely that Davoud would have been actively involved in these plans as well.
However, in December 1912, the Telluride Power Company and six other large power utilities in Utah, Idaho and Colorado were merged into a new corporate entity – the Utah Power and Light Company (UP&L). Comprising fourteen companies in total, the new conglomerate was capitalized at what was for the time a massive amount of $40 million USD. The driving force behind the merger was the New York-based Electric Bond and Share Company (EBASCO). Incorporated in 1905, EBASCO was the largest holding company for electrical utilities in the United States and closely aligned to General Electric. An immediate benefit for Salt Lake City was that the UP&L head office was established in that city. Together with his fellow Telluride employees, Vahram Davoud bore immediate witness to these momentous events in the history of electric power development in the American south-west. It was with Utah Power & Light that he would continue his promising career (see further below).
Marriage of Vahram Yettvart Davoud and Isabelle Constance Tandy
In June 1910, Vahram Yettvart Davoud travelled to Kingston, Ontario to wed Isabelle Constance Tandy, a resident of that city. It is not yet known how they met. All that can be surmised is that Vahram's work in the Buffalo/Niagara Falls region during the period 1903-1907 meant that the two were in close geographical proximity for several years which contributed to their becoming acquainted.
Isabelle Constance Tandy – Mother
Isabelle Constance Tandy was born July 22, 1890, in Montreal to W. Henry ("Harry") Tandy (1845-1930), a native of Surrey, England, and Isabella Munro Tandy (1848-1919). Census data as to Isabella's place of birth is contradictory – England or Canada – and lists her ancestry as either Scottish or English. Isabelle Constance had three older siblings – sister Lettice ("Lettie") (b. 1875), as well as brothers George (b. 1874) and Thomas (b. 1887). Although clearly named after her mother, she was known throughout her life exclusively by her middle name Constance, or "Connie".
Upon arriving in Canada, Harry Tandy embarked on a railway career which, by the time of Constance's birth, had brought him to Dunkirk, New York as Assistant Superintendent of the Brooks Locomotive Works located there. While little information about Isabella Munro Tandy is available, indications are that she was a patron of the arts in Dunkirk, sponsoring, and assisting in the organization of a number of performances over the years. Inspired by their mother, the Tandy children were artistically inclined. Constance herself was schooled in music, voice and dance. She was especially talented on the piano, performing in recital on a number of occasions through a music club of which she was a member. She would retain this interest throughout her life.
In July 1898, Harry Tandy resigned from the Brooks Locomotive Works to accept the position of Superintendent at the Canadian Locomotive Works in Kingston, Ontario. Although Harry left for Kingston immediately to take up his new position, the rest of the Tandy family did not relocate until September. Through his work at Kingston, Harry Tandy came to be regarded as a significant figure in the history of Canadian railway development.
Davoud – Tandy Wedding
Vahram Yettvart Davoud and Isabelle Constance Tandy were married in Kingston, Ontario on June 15, 1910. The wedding took place in St. George's Anglican Cathedral. A photograph of Varham and Constance on their wedding day exists, taken at the Kingston railway station as they departed on their wedding trip (see "Photographs – Davoud Family Photos" folder). Where they went is not known but evidence suggests at least part of their journey took them to Europe. A passenger list published on July 27, 1910, showed them arriving that day in Montreal from Liverpool on the White-Star Dominion steamship R.M.S. Laurentic. One possibility would be that the couple visited Tandy family relatives in Britain. By this time, Vahram's older sister Yevkine Davoud Chenorhavor was also living in the United Kingdom (Manchester).
Life in Utah
Following their return, the newly married couple settled in Provo, Utah where Vahram would be employed by the Telluride Power Company for another two years. As noted above, in December 1912, Telluride became part of a new entity – the Utah Power and Light Company. Unlike his previous employers, a significant amount of information is available with respect to the role Vahram Davoud played with this firm from 1912-1923. Important insight into Davoud family life during this period can also be garnered.
Utah Power and Light Company (1912-1923)
Vahram Davoud's position with Utah Power and Light was an extremely important one – that of Valuation Engineer. Valuation of public utilities was a relatively new field which made Vahram Davoud something of a trailblazer. In this role, Davoud was responsible for determining the current dollar value of all UP&L assets: property, land, financial holdings, equipment, and inventory. Although multi-faceted, Davoud's valuations pertained primarily to UP&L applications for rate increases to the Utah Public Utilities Commission. This required him to testify in public hearings before the Commission which had to approve the requests, typically opposed by a commercial entity or individual. In addition to the specifics of a given case, Davoud spent considerable time explaining what a valuation engineer actually did. The valuation reports he submitted for these hearings were exhaustive, in one case comprising four volumes. Testifying as an expert witness also involved cross-examination by lawyers representing opposing parties, which sometimes meant that Davoud was on the stand for two weeks or more. In cases where UPL& had, or was looking to acquire, business interests in neighbouring states, Davoud would submit valuation data to those jurisdictions, then travel to give supporting testimony and be cross-examined before local public utilities commissions. In addition to his official responsibilities, Vahram Davoud gave lectures on public utility valuation to professional organizations including the Utah Power and Light Section of the National Electric Light Association, Utah Society of Engineers, and local section of the American Society of Electrical Engineers. He is also known to have published at least one journal article on the topic in the January 1918 edition of the Monthly Journal, Utah Society of Engineers.
Davoud Family Life
In addition to his full professional life, Vahram Davoud continued to be active athletically. While with the Telluride Power Company, he was a member of the Provo baseball team competing against neighbouring communities such as Olmsted. After integration into the Utah Power & Light Company, he was for at least two years a member of the UP&L bowling team which competed against other firms in a Salt Lake City commercial league – one of their main rivals being the General Electrics. However, during his time in Utah, Vahram's primary athletic pursuit was tennis. In 1916, he was a founding member of the East Side Tennis Club in Salt Lake City. For a number of years, he also ranked among the top male players in the state. A such, he participated over a period of 6-7 years in various championships at the local, state and regional levels, both in singles and doubles competition. Although he never won a title, Davoud's name appears often in the extensive press coverage these tournaments received. On one occasion, Vahram Davoud's professional and athletic interests overlapped. In June 1921, the American Institute of Electrical Engineers held its Combined Annual and Pacific Coast Convention at the Hotel Utah in Salt Lake City. Together with golf and baseball, a tennis tournament was part of the agenda for recreational activities, and Vahram Davoud served as Chairman of the Convention Tennis Committee. The courts of the Salt Lake Tennis Club were made available for this occasion.
While outside of work Vahram Davoud was busy with his recreational sports, wife Constance became active in the social and cultural life of Salt Lake City. As an accomplished pianist, she was a founding member of the Salt Lake Women's String Orchestra. Organized early in 1914, the orchestra gave its first public performance in April of that year, featuring the music of Mozart, Mendelssohn and Bizet. Constance was also a member of the Saturday Night Dancing Club and the Women's Guild of St Mark's Episcopal Cathedral in Salt Lake City. This was also the Davoud family church.
While resident in Provo, the Davouds had three sons. The eldest, Paul Yettvart, was born on November 25, 1911. Two more boys followed: Harry Tandy on October 22, 1912 (evidently named after Constance's father), and John Gordon on February 1, 1916. All three boys began their primary education in Provo. The earliest known mention of Paul Davoud so far is reference to him in the role of Gift Bearer in a Christmas pageant staged by students of the Episcopal School in 1921. Of the three Davoud sons, Paul was the only one to be known throughout his life by his first name; his younger brothers almost exclusively went by their middle names – Tandy and Gordon.
Move to New York
In February 1923, Vahram Davoud took up a new position at the EBASCO head office, 71 Broadway Avenue, New York City. This was a major operation, comprising more than 950 people, including the largest engineering staff in the world dedicated wholly to the public utility sector. Davoud's role with EBASCO continued to be that of Valuation Engineer. Given the large geographical extent of EBASCO's activities, occasional travel to neighbouring states was again part of his job description.
Davoud Family Life
While Vahram Davoud worked in the heart of New York City's financial district, the Davoud family residence was located approximately fourteen miles away in Montclair, New Jersey. Although this meant a daily commute for Vahram, the choice of Montclair as home, with its rich cultural and intellectual life, as well as beautiful natural setting, was a good fit for the Davoud family.
Sources give two different addresses for the Davoud family in Montclair. Although the time-line is not completely clear, it appears that 452 Upper Mountain Avenue was their first residence. This 3,000 sq. ft., two-storey home with four bedrooms and four bathrooms was built in 1923; as such, the Davouds were likely the first occupants. Set back from and elevated slightly above street level, the Davoud residence was on the edge of beautiful Mountainside Park. Located directly adjacent was the Mountain Avenue railway station (Erie line) through which Vahram undoubtedly commuted. The house was also within walking distance of where the Davoud boys would go to school - Mt. Hebron Middle School located on South Mountain Avenue. By 1926, however, the family address had changed to No. 7 Wellesley Road, a 2,400 sq. ft., two-storey home with four bedrooms and two baths built in 1922. Only a short distance from their Upper Mountain Avenue home, the reason for this move is not known. Although on the other side of the tracks and bit further removed, it was still within easy walking distance of the Mountain Avenue station for Vahram's commute. Wellesley Road was also closer to Mt. Hebron School and meant that the Davoud boys did not have to cross a busy rail line to get there. No longer directly across from the Mountain Avenue station, it would have generally been a quieter location for the family. Photographs of both homes as they appear today are included in the "Photographs – Davoud Family Photos" folder for this project.
The Davouds took full advantage of the well-rounded life offered them in Montclair. Vahram became a member of the Montclair Athletic Club. Of special interest to him would have been that the club had what were advertised as the best tennis courts in the state. As she had in Provo, Constance Davoud involved herself in the Montclair community. She served on the executive of the Home and School Association, responsible for publicity. Her belief in the importance of education – undoubtedly shared by Vahram – was reflected in the scholastic efforts of her sons. In June 1925, youngest boy Gordon was among those students recognized for perfect attendance at Mt Hebron Middle School. The following year, older brothers Tandy and Paul made the 1926 Mt. Hebron honour roll. Constance also continued her musical pursuits as a member of the Musical Study Club of Upper Montclair. During her time with the group, she performed piano works by Sibelius, Percy Grainger, as well as Rachmaninov and other Russian composers. It is apparent that Constance encouraged an appreciation for music by her sons. Then aged 14, Paul was one of four boy soloists during Easter services at St. James Episcopal Church in April 1925.
Paul and Tandy participated in Boy Scouts, both receiving merit badges for first aid and aiding in civic-minded efforts such as a winter ice-safety patrol. Paul was also a specialist in fire building by friction, putting on public displays of his abilities, as well as contesting inter-scout fire building competitions. In October 1925, Paul and Tandy spent a weekend with a party of scouts at the nearby West Point military academy – a visit which may have had lasting significance for Paul. Paul also played bass drum in the Scout band. In addition, Paul and Tandy were active athletically. They were members of the Mt. Hebron School and St. James Episcopal Church track and field teams. Both also played on the St. James Church basketball team in the Montclair Church Athletic Federation league.
Death of Vahram Yettvart Davoud
Varham Yettvart Davoud died suddenly while awaiting a train in New York's Grand Central Station on August 28, 1926. According to one account, the cause of death was a cerebral hemorrhage, while another cited heart attack. Wife Constance and sons were visiting her father Harry Tandy in Kingston at the time of Varham being stricken, and she returned to Montclair to accompany his remains back to Kingston. There they were taken to the local branch of the Yale Club (Alumni Association) of which Vahram was a member. He was interred in Kingston's Cataraqui cemetery.
After Vahram's death, Constance and the three boys relocated to Kingston with the family residence located at 161 King Street East. This was in a beautiful wooded neighbourhood near the waterfront, several parks, and Queens University. As she had been in Provo and Montclair, Constance became active in the artistic and cultural life of the city, serving at least two years on the executive of the Kingston Art and Music Club. She was also a member of the Kingston Music Club which organized a series of chamber music concerts held in individual homes. In November 1932, she hosted such a gathering featuring the music of such well-known composers as Bach, Beethoven, Chopin, Haydn, and Mozart. On occasion, Constance also continued to give public piano recitals, including in February 1932 as part of a concert series held at Queens University where she performed music by Arensky and Rubinstein.
Paul Davoud completed three years of high school at Kingston Collegiate, graduating in 1928. Like his late father, he was a standout athlete competing in track and field. Paul also played on the Kingston Collegiate rugby team, helping it win the Eastern Interscholastic final in November 1927. Younger brothers Tandy and Gordon followed Paul through Kingston Collegiate and were excellent students and athletes in their own right. Tandy played on the school rugby team. He was also an accomplished junior sailor with the Kingston Yacht Club, winning an award for individual high score during a competition against the Bay of Quinte Club, Belleville, Ontario, in September 1930. Gordon won the Prince of Wales Scholarship for chemistry and participated in track and rugby. In his final year, he was on a Kingston Collegiate track team that set an eastern Ontario sprint record.
Royal Military College (Kingston)
Already well equipped by nature and inclination for a military or other service career, Paul Davoud entered the Royal Military College in Kingston, Ontario on a four-year programme in the fall of 1928. There is some reason to think that he was inspired in this direction by the example of his father. It will be recalled that in 1900 as a high-school student in Hartford, Vahram Davoud had dedicated his Valedictorian address to British General Lord Roberts of Kandahar. It is also known that Vahram Davoud registered for the 1917-1918 U. S. military draft, although he was not called up. It may also be that Paul's visit with the Montclair Boy Scouts to the West Point military academy in October 1925 left a lasting impression.
During his time at RMC, Paul Davoud was an outstanding student and leader. In his final year, he was appointed Cadet Company Commander for his "A" Company. Davoud graduated from RMC in June 1932, winning the "Sword of Honour" as the Cadet with highest over all standard of proficiency in his class. Paul also excelled in collegiate athletics. His greatest success was in rugby, where he became a sensation for the RMC Cadets, featuring prominently over several seasons in extensive coverage of the sport in the regional press. Frequently, he was identified as the star of games, sometimes winning matches almost single-handedly with spectacular long runs through many would-be tacklers. In addition to his rugby exploits Davoud represented RMC in track and field competition against other eastern Canadian universities. His track events included the 100-, 220-, and 440-yard dashes; field events were the running broad jump, shot put, and javelin. Davoud also competed for RMC in what were termed "mounted sports," winning the individual jumping contest and placing second in tent pegging at an interscholastic meet in May 1932. This harkened back to his days as a Boy Scout in Montclair. It was while at RMC that Paul Davoud began flying, spending the summers at Camp Borden taking a provisional pilot officer's course with the RCAF that was part of a plan for the creation of a Reserve Air Force. The training aircraft he flew were Tiger Moth and Fleet Finch biplanes. Thus, by the time of his spring 1932 graduation from RMC, Davoud had also received his pilot wings.
With plans to attend Queens in the fall, Paul spent the summer of 1932 in Kingston. During this time, he and younger brother Tandy competed as a team representing the Kingston Yacht Club in a series of competitions against junior sailors from the Rochester Yacht Club (New York). The superior experience of the Davoud brothers and their Kingston teammates was the difference in their winning the regattas rather handily.
Queen's University (Kingston)
In September 1932, Paul Davoud enrolled in the Faculty of Arts at Queen's University to study engineering. In addition to academics, he was again active athletically as a back-fielder for the Queen's senior rugby team, once more emerging as the star player. Both Paul's brothers followed him at Queen's, distinguishing themselves academically and athletically. In the spring of 1931, Tandy won the Adam Shortt Scholarship in Economics II. He served a term as president of the Queen's University Student Body and graduated in May 1934 with a Bachelor of Arts Honours degree. Tandy also played for the Queen's rugby team, joining in 1931. During the 1932 season, Tandy was ranked as high as second among top varsity scorers in the Eastern Canadian senior rugby union. In addition to sports, Tandy was a member of the Queen's Arts Society. Of the three Davoud brothers, it was the youngest – Gordon – who made the biggest impression at Queen's. He graduated in the fall of 1936 with a Bachelor's degree in organic chemistry and physics, and in December of that year, was named one of two Ontario Rhodes Scholars. It was the first time a Queen's student had won a Rhodes scholarship since 1926. Gordon was also an outstanding athlete. He excelled at badminton, winning the singles title at the Kingston Badminton Club in 1936, and also enjoyed golf and tennis. He was an excellent rugby player, being voted by his teammates the Royal Todd trophy as most valuable player of the Queens junior intercollegiate team in 1934. Like his older brother, Gordon was often the star of the game, as was the case when the Queens junior team defeated Royal Military College for a second-straight championship in October 1936. Gordon also participated as a sprinter in Queen's track and field. Gordon's graduate studies at Oxford led to a Ph.D. in organic chemistry. While there, he served as Captain of the Oxford badminton team.
However, whereas his younger brothers graduated Queens, Paul decided on a different path, leaving after just one year. Although coming out of RMC, everything pointed to him following his father Vahram into an engineering career, the eldest Davoud son evidently had his heart set on aviation.
Royal Air Force
In early February 1933, Paul Davoud was granted commission as a Pilot Officer in the Royal Air Force. He sailed for Britain from St. John on February 10, 1933. At this time, the RAF had in service only two types of training aircraft, both Armstrong Whitworth products – the Atlas was used as a bomber and army-cooperation trainer, and the Siskin biplane for fighter pilots. Hoping to be attached to a fighter squadron, Davoud was pleased when, after a few days on the Atlas, he was shifted to the Siskin. Upon completing training, he was posted to RAF No. 17 (F) Squadron based at RAF Station Kenley which was equipped with the Bristol Bulldog Mk. II.
A highlight of Davoud's time with the RAF was his participation in the fifteenth annual RAF Pageant at Hendon Aerodrome near London in July 1934. Although not open to the public, the event was witnessed by thousands of people, including aviation experts and military observers from all the great powers. Dignitaries present included then Prince Edward of Wales, an aviation enthusiast and pilot, who arrived in his private Vickers Viastra monoplane. The role of Davoud's No. 17 Squadron was a simulated attack against a ground target. At the conclusion of their display, five Bulldogs flew intricate patterns leaving coloured smoke, setting the stage for exhibition in precision flying by No. 25 Fighter Squadron.
In addition to his aviation duties, Davoud continued to be active athletically. In the summer of 1933, he participated as part of Flying Training School, Sealand, in an annual track and field competition against Manchester University held at Fallowfield, a suburb of Manchester. Davoud competed in several events. He narrowly lost on the anchor leg of the 440-yard relay but narrowly won running anchor on the mile relay. Manchester University was overall far superior in the field events, with Davoud emerging as the lone bright light for Sealand, finishing second in the javelin throw, as well as placing in shot put and discus.
Shorty after the Hendon pageant, Paul returned to Canada to visit his mother Constance in Kingston, sailing first from Liverpool to Quebec City on the S. S. Duchess of Bedford. Constance paid for her son's passage. It is not indicated how long Paul stayed in Kingston or when he returned to Britain. However, in mid-March 1935, Davoud resigned his RAF commission, sailing back to Canada on April 3 to accept a position as pilot with Canadian Airways Limited. By this time, Davoud had logged almost 700 hours total flying time – 103 at Borden and 590 with the RAF.
Canadian Airways Limited
Paul Davoud began officially with Canadian Airways Limited in May 1935 and was initially based at Senneterre, Quebec. At the time of his arrival, the area around Senneterre was becoming a major focus of new mining development. However, he stayed there only a few months. By November 1935, Davoud had moved to Winnipeg. All indications are that he remained in Winnipeg through 1936 and part way into the following year. In June 1937, Davoud was transferred to Edmonton to join the CAL operation there under the direction of Superintendent W. R. "Wop" May. This was due to the company being faced with the busiest northern flying season on record. However, in the fall of 1937 Davoud moved back to Manitoba where he became Superintendent of the Northern Manitoba District for Canadian Airways based at God's Lake Narrows. During his time with CAL in Winnipeg and Edmonton, a number of Davoud's flights made the press. These included several "mercy flights," freight and mail runs, and, in July 1937, several trips from Fort Good Hope and Arctic Red River to Aklavik delivering aviation fuel in support of the search for a lost Russian trans-polar expedition.
Hudson Bay Company Air Transport
In 1938, the Hudson Bay Company embarked upon a major upgrade of its transportation facilities, including the company-owned Mackenzie River Transport, one of two principal shipping firms moving huge volumes of cargo and personnel north from Edmonton in support of rapidly growing mining operations in the Arctic. As part of this modernization, a decision was taken to establish an air transport service within the HBC Fur Trade department. In a sense, the company had already taken to the air as, for several years, it had been chartering Canadian Airways aircraft and crews to fly officials on northern inspection tours as well as transport equipment and freight, including furs. HBC archival documents make clear that the idea of proceeding to a company owned and operated air transport evolved over a period of several years. Moreover, Paul Davoud was identified from the outset as the type of man desirable to lead the new venture – a pilot with northern flying experience and strong administrative potential. With Hudson Bay Company General Manager in Canada P. A. Chester having played a key role, Davoud's appointment as Transport Superintendent of the Fur Trade Department was confirmed in August 1938. In this capacity, Davoud would be responsible for all components of fur trade transport, including such "traditional" methods as ship, steamer, and dog teams. His office was in HBC Canadian headquarters at Hudson Bay House in Winnipeg. As the company had wanted to have their man in place prior to purchasing an aircraft, the stage was now set for this next step.
Davoud played a key role in HBC deciding on the Beechcraft 18-D as its first company owned and operated aircraft. This meant him spending considerable time performing due diligence at the Beechcraft plant in Wichita, Kansas, including several test flights of the machine. The decision to proceed was announced in Winnipeg on February 15, 1939, by Davoud himself. With the company having moved the executive offices of the Mackenzie River Transport from Winnipeg to Edmonton in November 1938 as part of reorganizing and centring their transport operations there, it followed that the new aircraft would also be based in Edmonton. The primary role of the airplane would be to provide close administrative control and additional freighting capacity for the Hudson Bay Company's three western fur trade districts and the Mackenzie River Transport. To provide ground and infrastructure support for these operations, Davoud had begun work on instructions to HBC fur trading post personnel regarding radio communication, weather reporting, the marking of runways, and the establishment of fuel caches at various locations. In so doing, Davoud expressed the hope that all northern air operators would soon come to know that they could rely on HBC fur trading posts for reliable information and assistance.
It was also confirmed that the pilot and flight engineer hired to take charge of the airplane were highly-experienced flyers from the Edmonton area. Pilot Harold "Harry" Winny was a veteran of more than 16-years flying experience in many parts of Canada. He began his career with the RCAF and in January 1935 received the Order of the British Empire for distinguished service in the aerial photography of Northern Canada. A native of Vancouver, Winny had flown there with CAL for three years prior to moving to Edmonton. Winny was also a known commodity to HBC. During his time with CAL in Edmonton, he had several times flown HBC officials on inspection tours of northern outposts. Flight Engineer Duncan McLaren was a former CAL employee in Edmonton who had moved to Winnipeg in September 1938 to accept a maintenance position with Trans Canada Airlines.
Registered CF-BMI, the new Beechcraft was flown from Wichita to Winnipeg by Davoud, Winny, and McLaren on April 25, 1939. On May 10, piloted by Winny and McLaren, and also carrying Davoud, CF-BMI flew to its Edmonton base. It arrived on wheels with the expectation to switch to pontoons shortly for the northern summer flying season. Plans called for the aircraft to use a new Canadian Airways seaplane base on the Saskatchewan River. The decision of HBC to make Edmonton its base of air operations was seen locally as further enhancing the importance of that city as a flying base. The airplane first took to the air on company business in late May when Winny and McLaren flew two HBC officials on a 5,000-mile northern inspection tour as far north as Aklavik and Old Crow. This was also something of a test-run for the aircraft in advance of two long aerial tours being planned for the summer of 1939.
In June, piloted by Winny and McLaren, with Davoud supervising, it carried a high-ranking HBC executive party including London Governor P. Ashley Cooper on a journey to Aklavik, with stops planned in Fort McMurray, Fort Simpson, Great Bear Lake, Fort Norman, Good Hope, and Fort Macpherson. The return trip proceeded through Prince Albert and The Pas before ending in Winnipeg on June 25, 1939. An avowed enthusiast for increased use of aircraft in support of the fur trade and other company operations, this was, Ashley Cooper's second aerial tour of northern Canadian outposts, his first having been on chartered Canadian Airways aircraft in the fall of 1932. In August 1939, CF-BMI took another HBC party on an 8,000-mile aerial inspection of company posts in the MacKenzie districts, Western Arctic, and districts along the west coast of Hudson Bay.
In March 1940, plans were made for a 5,000-mile tour of 25 HBC posts in the Western Arctic and MacKenzie districts. Among the stops to be made were Cambridge Bay, Perry River, Holman Island, Tuktoyaktuk, and Bathurst Inlet. Piloted by Paul Davoud, the flight departed Edmonton on March 22. The first leg to Coppermine approximately 1,200 miles north of Edmonton was completed without incident. However, during the second leg from Coppermine to Cambridge Bay, Davoud was forced to land the aircraft on Wellington Bay due to fog. The HBC party was equipped with light tents, primus stoves, sleeping bags, blowtorches and other equipment that would have allowed passing the night securely on the snow-covered ice. Nevertheless, their situation was eased by the sudden appearance of an Inuit trapper/hunter with his family and dog-team. Reputed to be an Arctic champion in the skill, the Inuit built for the HBC personnel an igloo in less than two hours, allowing them to spend a much more comfortable night than would have otherwise been the case. By next morning, the fog had lifted, and the HBC travellers were able to continue the trip without further incident.
At the end of May 1940, the aircraft, piloted by Davoud, arrived back in Edmonton after having undergone a complete overhaul in preparation for the coming summer flying season at the Beechcraft factory in Wichita. This was Davoud's last flight at the controls of CF-BMI as he would very shortly enter the RCAF for wartime service (see below). The Beechcraft would continue to fly for HBC until the summer of 1941 when the aircraft, after having had repairs done to a damaged float, capsized and sank during a storm at Richmond Gulf, Quebec.
Marriage to Kilby Macadam Harding
On October 14, 1939, Paul Davoud married Kilby Macadam Harding, youngest daughter of Most Reverend Malcolm Taylor Macadam Harding, Archbishop of Ruperts Land, and Emma Elizabeth Harding (nee Talbot). Born in Regina on July 6, 1913, Kilby Harding completed primary and secondary school there and initially chose nursing as her career. In 1932, she was accepted into the prestigious program offered through the Royal Victoria Hospital in Montreal. Kilby graduated from Royal Victoria in the spring of 1935 after which she embarked on a nursing career in Montreal. Older sisters - Edith still at home, and Mary, music teacher at Ruperts Land College – both lived with their parents at Bishop's Court, Winnipeg, the official residence of the Archbishop of Ruperts Land.
While in Winnipeg on a visit to family during the summer of 1938, Kilby learned that Trans Canada Airlines was planning to hire air hostesses, one of the requirements being that the women possess a nursing background. Her application was accepted and Kilby Harding was one of fourteen Canadian nurses selected for training as the first Trans Canada Airline stewardesses. The group was notified to arrive in Winnipeg by March 1, 1939, for a month-long preliminary course at the TCA Winnipeg headquarters. Following training, those who passed their tests would be given three months probationary training before having their appointments confirmed as permanent. On March 17th, TCA announced that Kilby Harding would be among nine stewardesses stationed in Winnipeg. Five would serve the Winnipeg – Vancouver route, while Kilby was one of four who would work Winnipeg – Toronto flights. The newly minted air hostesses started their active service when TCA began scheduled passenger services on April 1st, 1939. However, at the end of August, it was announced that Kilby Harding would become the first TCA stewardess to leave the company in order to marry.
Paul Davoud and Kilby Harding met in Winnipeg six months prior to the wedding. The exact circumstances of their introduction remain unclear beyond the fact that they had a shared interest in aviation. Paul's mother Constance and younger brother Tandy came to Winnipeg from Kingston for the wedding. During their stay, both were houseguests of Mrs. James Richardson. Kilby's bridal shower featured an "airplane motif" with miniature airplanes suspended from chandeliers. Officiated by Kilby's father Archbishop Harding, the wedding took place in St. John's Anglican Cathedral. Paul and Kilby immediately departed on a wedding trip by airplane and automobile to Eastern Canada. Upon returning to Winnipeg on October 29, 1939, they took up residence at 742 Dorchester Avenue.
Enlistment in the RCAF
Upon the outbreak of World War II, the government of Canada issued a call for experienced pilots to join the RCAF as instructors under the auspices of the British Commonwealth Air Training Plan (BCATP). Paul Davoud began his service at the RCAF Central Flying School in Trenton, Ontario, holding the rank of Flight Lieutenant. By the spring of 1941, he had risen to the rank of Squadron Leader and was the Assistant Chief Instructor.
In May 1941, Paul Davoud received word that he was being posted overseas. Squadron Leader N. B. Peterson of Winnipeg and Flight Lieutenant M. Lipton of Halifax, also serving as instructors at Trenton, received their postings as well. These men became the first RCAF fliers posted to the trans-Atlantic ferry service so that they could get to England to complete training as fighter pilots. Although RCAF officers had previously been loaned to the ministry of aircraft production for the purpose of ferrying aircraft, this was first time members of the RCAF not in the ferry service had been assigned the task of flying airplanes across the ocean with the object of serving overseas. The aircraft were American-built Hudson bombers destined for service with coastal command. Following a 10-day embarkation leave, the three men reported to Montreal where they had several days of familiarization training on the Hudson. They then flew the aircraft to an undisclosed departure base. There, they waited until winds were favourable for the planned 2,000-mile non-stop crossing. Davoud and Peterson, each with a navigator and wireless operator, left together with Lipton following a week later. Although Davoud and Peterson encountered squalls about 200 miles from destination which took them slightly off course, the trip was otherwise uneventful and they landed after 13 hours in the air. With excellent weather all the way, Lipton made the flight in less than 11 hours.
Upon arrival in the United Kingdom, Davoud was promoted to the rank of Wing Commander in charge of newly formed RCAF No. 409 "Nightfighter" Squadron operating the Bristol Beaufighter. Davoud took part in combat operations and got his first "kill" in early November 1941, shooting down a Dornier 217 over the North Sea. Not only was this Davoud's first victory, it was the first German aircraft to be confirmed destroyed by the Squadron. His success was portrayed in a painting by artist Layne Larsen entitled "First Blood" (see "Artwork" folder). On November 13, 1941, King George VI spent the day visiting RCAF squadrons operating out of six RAF bases. One of his stops was at No. 409 Squadron where Davoud chatted with the King and showed him the Beaufighter in which he had shot down the German night raider two weeks earlier. Davoud later joined other senior officers at the head table during a luncheon in the King's honour.
In June 1942, Davoud was mentioned in dispatches on the "King's Birthday Honours List". In August 1942, Davoud visited Montreal on leave where wife Kilby together with infant son Paul Michael was now living. Just before his leave came due, Davoud claimed a German Heinkel 111 bomber probably destroyed and a Dornier 217 damaged. On February 19, 1943, Davoud had a close call when his Beaufighter crashed as a result of which he sustained minor burns to his hands and face. He was admitted initially to RAF Hospital Rauceby, and then transferred to Queen Victoria Hospital on March 9 but recovered quickly and soon returned to active duty. In February 1943, it was announced that Davoud had won the Distinguished Flying Cross (DFC). He received his medal personally from King George VI during an investiture ceremony at Buckingham Place in May 1943.
In mid-June 1943, Davoud was given command of RCAF No. 418 Squadron, a unit that was in the final stages of converting from the Douglas Boston bomber to the de Havilland Mosquito fighter-bomber. This would be the first Canadian squadron to operate the Mosquito. Shortly after Davoud's arrival, the squadron was "adopted" by the city of Edmonton and thus became known as the "City of Edmonton Squadron". This decision was based on the fact that at least 15 squadron members, including its Commanding Officer, had personal connections to Edmonton and district. As it carried out most of its operations at night, and often struck deep into enemy territory, the squadron also became known as the "Ghost Raiders" and/or "Intruders." As had been the case prior to Davoud taking command, these missions were directed primarily against German airfields and railways. On his first sortie, Davoud's Mosquito was hit by German flak resulting in a chunk of steel piercing his windscreen. Davoud nonetheless succeeded in completing his attack against a railway at St. Pierre. As dangerous as these low-level raids were, the riskiest situation to be encountered by Davoud came in September 1943 when he and navigator F/O Keith Reynolds found themselves in the midst of barrage balloons in poor visibility conditions near Canterbury. Davoud had to employ all his flying experience and skill to avoid disaster.
In early January 1944, Davoud was promoted to Group Captain and handed over command of No. 418 Squadron to W/C Don MacDonald of Edmonton. The announcement at the time stated simply that Davoud was being assigned "a more important post." In between, Davoud enjoyed a brief rest period and at the end of January, the three Davoud brothers met for dinner in a small Danish restaurant in London. This was first time they had been together since Christmas 1932 in Kingston. Tandy was by now also in the RCAF as Flight Lieutenant and had just arrived recently from Canada. Having come to the United Kingdom in the fall of 1937 as a Rhodes Scholar, Gordon had remained in London where he was engaged in highly specialized defence-related research work for the British government. This revolved primarily around defending against a possible Nazi chemical weapon attack.
On March 17, 1944, Paul Davoud was awarded the Distinguished Service Order (DSO). At the end of March, Davoud was part of a group photograph of Edmonton and district personnel serving with the "City of Edmonton" squadron. Newspaper accounts in Canada spoke of the outstanding success enjoyed by the "Intruders" during the first months of the year. The "City of Edmonton" squadron would end the war as the highest scoring in the RCAF, having flown 3,492 sorties with 178 German aircraft destroyed and 103 damaged. It also shot down 81 V-1 "buzz bombs" with Squadron Leader Russ Bannock of Edmonton becoming the RCAF's top V-1 ace.
Military Athletics
In addition to his squadron command responsibilities, Paul Davoud was active in military sports. In July 1942, his Beaufighter squadron defeated several units of Canadian airmen and British soldiers in a track and field meet. Davoud was the meet's second-highest scoring individual athlete, compiling 13 points by winning the discus throw and placing second in the shot-put. In August 1942, Davoud's squadron claimed victory in a RCAF track and field competition in which fifteen teams took part. This time, Davoud scored 10 points based on winning the javelin throw, placing second in shot-put and the 220-yard run, as well as third in the 100-yard dash. In November 1942, Davoud's Beaufighters won a RCAF volleyball tournament contested by seven teams, with Davoud himself playing a prominent role in the victory. In November 1943, a story in the Canadian press predicted that Davoud's No. 418 Squadron team could be the "dark horse" of the RCAF Overseas Hockey League this season, with Davoud likely to assume the coaching duties.
Second Tactical Air Force (2TAF)
The Second Tactical Air Force (2 TAF) was officially proclaimed on November 15, 1943. Drawing on lessons learned by military strategists in North Africa and Sicily, the primary strategic goal of 2TAF would be low-level tactical operations in support of Allied ground forces during the forthcoming invasion of Europe. RCAF squadrons assigned to 2TAF were part of No. 83 Group. Within No. 83 Group, G/C Paul Davoud was put in command of RCAF No. 143 Wing (438, 439, 440 Squadrons) operating the Hawker Typhoon. Designed initially as the successor to the Hurricane in a high-level interceptor role, air force officials soon realized that the aircraft was better suited to a low-level interceptor and ground attack function. Given the enormous success his No. 418 "Intruder" squadron had demonstrated on low-level attacks against German ground targets, Davoud's appointment in charge of a Typhoon wing made great sense. It is to be recalled as well that Davoud had trained in ground target attack with his RAF squadron during 1933-1934. In the spring of 1944, No. 143 Wing was based at RAF Tangmere where it shared facilities with RCAF No. 127 Spitfire Wing under the command of W/C Mannifrank Brown of Winnipeg. From Tangmere, Davoud's Typhoons concentrated their attacks on ground targets in occupied Western Europe including headquarters, bridges, railways lines, and wireless stations, as well as targets of opportunity.
It was after D-day that the Typhoon would truly prove its value. A key part of Allied plans called for the construction as soon as possible in the invasion zone of temporary airstrips known as Advanced Landing Grounds (ALG). Once reaching a satisfactory level of serviceability, 2 TAF squadrons would transfer their entire operations from England to Normandy in order to provide close air support to allied ground forces. On June 27, 1944, Davoud's No. 143 Wing relocated from Tangmere to ALG B-7 Lantheuil. Once based in France, the Typhoon became a devastating instrument of close-air support – "airborne artillery" as Davoud himself would later describe it. In late June 1944, Davoud's wing played a key role in the battle for the regional centre of Caen. The Canadian Typhoons were front and centre again during the pivotal Battle of Falaise Gap at the end of August 1944, which saw Allied ground forces finally break out of the Normandy beachhead. Retreating columns of German armour were caught in the open during daylight allowing Allied aircraft to destroy thousands of tanks and other vehicles in a single day. On August 31, No. 143 Wing aircraft staged through ALG B-24 at St. Andre-de-l'Eure on their way to B-48 at Amiens/Glisy. From here, following advancing Allied ground forces, the Wing would move to a field near Brussels, then Eindhoven, The Netherlands, and, finally, to a base inside Germany proper.
On New Year's Day 1945, Davoud was among RCAF personnel recognized on the King's New Year's Honors List as "Mentioned in Dispatches". At this time he was based in the Netherlands as a senior staff office with RAF Group Headquarters, having relinquished command of No. 143 Wing December 31, 1944. In June 1945, he was among Canadian service personnel honoured in the King's Birthday List of Decorations.
Post-war Career
HBC archival documents make clear that both the company and Davoud anticipated his return after the war to lead again the HBC Fur Trade Transport Division. Indeed, the two parties assumed the rapid post-war growth of the HBC air fleet. In early February 1945, Davoud returned to Canada on two-week leave. However, during his visit, events transpired which changed his future plans. Trans Canada Airlines was at this time actively recruiting RCAF officers with wartime leadership experience for its management team and, upon the recommendation of Federal Minster C. D. Howe, offered Davoud the position of Operations Assistant to the Vice President. In March 1945, having returned overseas, Davoud informed HBC in writing of his intention to accept the job with TCA and tendered his resignation. For the first part of his tenure, the family, now including young sons Paul Malcolm and Michael Gordon, lived in Winnipeg at 304 Montrose Street. However, in 1948 the Davouds relocated to Toronto. Davoud remained with TCA until November 1951 when he became the General Manager of Field Aviation Company Ltd., Oshawa, Ontario. Field Aviation was an affiliate of the Photographic Survey Corporation, which was, in turn, part of the Hunting Aviation Group. In January 1953, Davoud was named Manager of Kenting Aviation Ltd., a company also located in Oshawa and part of the Photographic Survey Corporation. In March 1955, Davoud joined Orenda Engines as Vice-President Sales and Service.
In February 1959, Paul Davoud was named Chairman of the Air Transport Board, an appointment widely praised within the industry. In his new job, Davoud headed a board of three members charged with responsibility for advising the Minister of Transport in regard to all aspects of Canadian aviation, and also vested with licencing authority over all civil air transport in Canada. Davoud remained in this position until September 1, 1963, when he resigned in apparent frustration over the inability or unwillingness of the federal government to develop what he regarded as a coherent national air transport policy. On September 30, 1963, Davoud accepted the position of Vice-President Operations with Hawker-Siddeley Canada Ltd., Toronto, Ontario. Davoud remained with Hawker-Siddeley until January 1968 when he was named Vice-President Marketing for de Havilland Aircraft of Canada responsible for domestic and international sales, promotion, service, and support of all company products. In September 1968, the Davoud residence in Toronto was among the homes of 10 men connected with the Hawker-Siddeley group of companies (of which de Havilland was one) targeted by pipe bombs. Damage was minimal and no one was injured. An anti-Vietnam war group was suspected even though Hawker-Siddeley denied sending war materials to the American government. Davoud remained with de Havilland until March 1970 when he retired from the company. Davoud also served as an advisor to the government of Ontario regarding the creation of norOntair. In February 1986, it was announced that Paul Davoud was among three men elected to the Canadian Aviation Hall of Fame (CAHF). Going into the hall with him were retired RCAF Air Vice-Marshal John Plant and Air Canada board chairman Claude Taylor.
Paul Davoud died suddenly in his sleep at the family home on Wolfe Island, near Kingston on March 19th, 1987. A private family service was held in St. George's Cathedral, Kingston, on March 24th. This was followed by a memorial service in Sir Arthur Currie Hall on the Royal Military College campus on March 26th. Those who so desired were requested to donate to a memorial fund being established at the Paul Davoud School in North Bay, Ontario. He was predeceased by his mother Constance in June 1968, younger brother Tandy in March 1976, and wife Kilby in 1971.
David A. Riach, david.riach@shaw.ca © 2019-2023
David A. Riach Biographical Sketch
Originally from Winnipeg, David Riach received a Ph.D. in political studies from Carleton University in 2000. Research for this work took him to Warsaw, Poland, Minsk, Belarus, and several other locations. During the mid-1990s, Warsaw was home for the better part of two years. David published findings related to his dissertation "National Identity in Post-Soviet Belarus'" in the journals Lithuania (1997) and Canadian Review of Studies in Nationalism (2000). He also contributed a chapter on the subject to the book New Europe: The Impact of the First Decade, Volume 1 (2006). Although not a career choice, aviation has always been a passion. Since leaving full-time work in February 2018, David has been able to devote himself to the subject. Today, he is an independent, non-profit aviation researcher and writer living in Winnipeg. Subjects of special interest include the early years of commercial air transport in Canada, the "flying fur trade," biographies of lesser-known but significant players in Canadian aviation history, John M. Larsen and the Junkers-Larsen JL-6, and the role of aviation in Canada's residential schools.
Excerpt from Davoud Biography re: 2TAF and the Typhoon Second Tactical Air Force (2TAF) by David Riach
The Second Tactical Air Force (2 TAF) was officially proclaimed on November 15, 1943. Drawing on lessons learned by military strategists in North Africa and Sicily, the primary strategic goal of 2TAF would be low-level tactical operations in support of Allied ground forces during the forthcoming invasion of Europe. In fact, some analysts had been calling for close cooperation between the army and air force since 1941, arguing that only aircraft could prove effective against German armour: "Tanks do not seem to be able to stop tanks, except when they are available in huge numbers; demolitions and anti-tank weapons seem to offer only a partial and temporary check. But the anti-tank air squadron, appropriately equipped and drilled, might, in my opinion, be effective in breaking up an armoured thrust." As the writer continues: "By improvisation and development, tank-stopping air squadrons could be brought into early existence. An appropriate air drill would enable them successively to bring their cannon to bear on armoured units on the ground in such a way as to subject them to an incessant and crippling assault." Although at the time this writer was thinking primarily in defensive terms – specially trained air squadrons to stop advancing German Panzers - the concept of such formations was equally applicable to offensive operations. While not originally designed as such, an airplane that would prove itself a near-perfect fit for this role was already under development in Britain – one that would be the largely unsung mainstay of 2TAF.
The Hawker Typhoon
The Hawker Typhoon was a low-wing, single seat fighter conceived by Sydney Camm, designer of the legendary Hurricane and many other Hawker aircraft. Seen as the successor to the Hurricane, design work on the Typhoon began in March 1937, although, in the words of Camm himself, "the Typhoon is just one of a long series going back to 1923 when I started with Hawkers." A 2400b.h.p. Napier Sabre engine designed by Major J. B. Halford powered the new plane. It was equipped with a powerful mixed machine gun and cannon armament, and said to be capable of climbing "like a rocket" even when carrying a full war load. First flight was in February 1940 with Hawker chief test pilot Flight-Lieutenant P. G. Lucas at the controls. In the spring of 1941, Lucas received the George Medal for executing an extremely tricky emergency landing with a prototype after a near catastrophic structural failure of the tail assembly. Nonetheless, he described the Typhoon "as 'a great plane' and her power-dive – the world's fastest – as a 'great thrill'." Reports on the development of Typhoon were also carried in the Canadian press. Some accounts heralded the Typhoon as "a new wonder, a new hope for victory in the air." By this time, Camm and his team at Hawker had already moved on to conceiving the Typhoon's successor, the Hawker Tempest which began combat operations in June 1944.
The urgent requirement by the RAF for standardized fighters after the fall of France delayed the start of Typhoon production, as it was a new type that would have caused a loss in man-hours if the change in manufacture had been made. On the other hand, once the decision to go to production was taken, the Typhoon's design and development made possible a streamlined assembly process. Instead of parts being added to the airframe piece-by-piece, major components such as the wing were assembled beforehand together with fuel tanks, armament racks, and undercarriage. This entire component would then be attached to main body of the aircraft. At the height of production, many aircraft plants across Britain, including the famous Gloster Aircraft Company, were contributing to the Typhoon program.
The airplane entered active service in August 1942 with the formation of a Typhoon wing at RAF Duxford. Led by W/C Denys Edgar Gillam (D.S.O, D.F.C.), the wing first flew into action over Dieppe protecting ships returning to England with evacuated Allied soldiers. As W/C Gillam recalled: "Our task was to intercept anything that attacked the ships on the way back. In the dog fights it was difficult to claim anything as definitely destroyed … The enemy fighters half rolled into France but were pursued down almost to ground level. Thus, our pilots had to pull out of their dive, and it was impossible to see what happened to the enemy after they had fired." This was the first time that the Typhoon was officially mentioned in air activity reports. On January 20, 1943, Typhoons defending London destroyed five German aircraft. By this time, the Typhoon had been victorious over all of Germany's best aircraft – Me-109; Me-210; Focke-Wulf (FW) 190; Junkers 210; and Dornier 217. A RAF squadron led by S/L Beamont, a Battle of Britain veteran said to be the "master-pilot of the Typhoon" and who was subsequently awarded the D.S.O, recorded this success. Beamont had been lent to Hawker as a test-pilot during the development of the Typhoon. As other reports in the British press suggested, in these early days of its deployment the Typhoon was proving especially adept at dealing with low-flying enemy intruders – often FW-190s - evading radar and staging hit-and-run attacks against ground targets of opportunity. It was also demonstrating its worth as a low-level, ground-attack aircraft against German trains and other targets in western Europe. Many of these raids were led by S/L Beamont whose squadron was credited with more than 100 locomotives destroyed. The Typhoon was also proving effective in low-level sea attacks against German E-boats, armed trawlers and minesweepers.
Although the Typhoon's existence had been known since the spring of 1941, and it had entered service in the summer of 1942, more complete details concerning the plane were not released officially until well into 1943. With a wingspan of 41' 7" and length of 31' 11", the aircraft was only slightly larger than its Hurricane predecessor. However, when a fully-loaded 11,300 pounds, it weighed a ton more than did the heaviest Hurricane – the fighter-bomber version of that aircraft. However, thanks to the new Napier Sabre engine, this extra weight did not affect performance. Although much more powerful than the Rolls-Royce engines which with only one exception had powered all Hawker fighter aircraft to that point, the Napier was surprisingly compact. Its shape made it possible to install without disrupting the smooth exterior lines of the airplane's nose. This combination contributed greatly to making the Typhoon the fastest fighter aircraft in the world. Armament consisted either of twelve .303 Browning machine guns or four 20mm. Hispano shell-firing cannons, which, together with speed and maneuverability, gave the Typhoon the edge over its primary German adversary, the FW-190. The plane could also be fitted with 500-pound bombs or RP-3 rockets - giving rise to the nicknames "Bombphoon" and "Rockphoon". The Typhoon's design also allowed for rapid refueling and rearmament and its airframe structure facilitated quick overhaul and part replacement. Some accounts portrayed the Typhoon as the latest example of British "inventive genius" that made the country a world leader in the design and development of "secret weapons." As such, it was regarding as a game-changer that might help turn the tide of war.
While extraordinary optimism surrounded the Typhoon, accounts also noted that the aircraft did have some "teething troubles." Denys Gilliam later recounted: "At first, the Typhoon gave a lot of trouble – both with the engine and airframe – and we lost a lot of good pilots. However, once these faults were overcome it became a very tough and reliable machine and the very best gun platform. It carried bombs, rockets, and, of course, cannons and you could hold a steep dive longer than the Me 109 or the FW 190." Nonetheless, these issues militated against the long-term success of the Typhoon's intended role – that of high-altitude interceptor. Hence, a decision was taken to capitalize on the prowess it had demonstrated as a low-altitude interceptor and ground attack aircraft. Thus, although not planned as such, the Typhoon evolved into the first designated close-air-support aircraft.
RCAF squadrons assigned to 2TAF were part of No. 83 Group. Within No. 83 Group, G/C Paul Davoud was put in command of RCAF No. 143 Wing (438, 439, 440 Squadrons) operating the Typhoon. Given the enormous success his No. 418 "Intruder" squadron had demonstrated on low-level attacks against German ground targets, his appointment made great sense. It is to be recalled as well that even before this, Davoud had trained in ground target attack with his RAF squadron during 1933-1934. The time between now and the planned invasion of France allowed Davoud to hone his pilots' skills flying the Typhoon in close air support and low-level attacks against Nazi ground targets.
RAF Tangmere
In the spring of 1944, Davoud's No. 143 Wing was based at RAF Tangmere where it shared facilities with 2TAF RCAF No. 127 Wing under the command of W/C Mannifrank Brown of Winnipeg. A Canadian Press account profiling Brown and his Wing also made mention of Davoud, "whose record as bush pilot is as well known as Frank Brown's." This was the second time that the two men's names had been given together in a news story – the first being when Davoud and Brown, flying for different companies, piloted "mercy flights" into Winnipeg in December 1937. Operating from Tangmere, No. 143 Wing Typhoons concentrated their attacks on ground targets in occupied Western Europe including headquarters, bridges, railways lines, and wireless stations, as well as targets of opportunity. In a letter to P. A. Chester written at the end of May 1944, Davoud described his job as "most interesting" and the work "fascinating". He added: "As you will note in the daily papers, the day and night pounding that the combined allied forces are handing out is on a scale which even the optimists could not foresee a short time ago."
Davoud in Normandy
It was after D-day that the Typhoon would truly prove its value. A key part of Allied invasion plans was the building as soon as possible of temporary airstrips known as Advanced Landing Grounds (ALG). Once reaching a satisfactory level of serviceability, 2TAF squadrons would relocate their entire operation from England to Normandy in order to provide close support for allied ground forces. On June 27, 1944, Group Captain Davoud's No. 143 Wing relocated from Tangmere to ALG B-7 Lantheuil, Normandy.
With allied troops on the ground in France, the Typhoon immediately began proving its worth as an instrument of close-air support. As one correspondent wrote from Normandy on June 15th: "Squadrons equipped with rocket-carrying Hawker Typhoons are now doing great execution with these highly destructive missiles. Yesterday they were giving close support to advance elements of the Army. T.R.P. (Rocket Projectile) has added enormous power to these fighters when they are engaged in concentrated low-level assaults against enemy positions. After Typhoons of the Second Tactical Air Force had delivered lightning blow on a village near Tilly-sur-Seulles, the place was devastated as though it had been subjected to heavy shelling." In late June and early July 1944, 2TAF Typhoons played a key role in the capture of the regional centre of Caen by British and Canadian forces: "Splendid work was done by rocket-firing Typhoons on German strong points pin-pointed in advance, and when they dived on group of stationary tanks all that was seen was an explosion and cloud of dust." Typhoons attacking massing German armour and infantry helped defend against Nazi counter-offensive efforts in the Caen area during the weeks that followed. In late July, this earned 2TAF rocket-firing Typhoon squadrons a message of thanks from the allied Second Army.
In late July 1944, a Davoud feature article was published in newspapers across Canada, some of which included a photograph of him alongside one his Wing's Typhoons. As he was quoted: "The big job now is direct support of the army in daylight; the other job was a straight air force proposition aimed against the Hun air force, mostly at night. With the Typhoons carrying their normal firepower placed over the bombs or the rockets, we can tackle most of the army support targets with good results." On August 5th, the Chicago Tribune Press Service noted Davoud's praise for the rocket-launching Typhoon ("Rockphoon") as "a first-class weapon." At this same time, Davoud was quoted on the possibility that one of his Typhoons was responsible for the air attack that seriously injured German Field Marshal Irwin Rommel, noting, however, that "every other squadron in Normandy has been doing the same thing." In any case, Davoud stated, it seemed certain that Rommel was no longer in charge of enemy operations "because the Germans are acting like children." Davoud added the colourful observation that Rommel was a "pretty hot" General and there was little indication that a "hot" General was in command of retreating Nazi forces. Nonetheless, Davoud was careful not to underestimate the will of German soldiers, especially those of young fanatical Nazi armored divisions, who, although under constant ground and aerial bombardment, intend to "hold on till the last man is gone."
2TAF Typhoons were key during the pivotal Battle of Falaise Gap, August 12-21, 1944, which saw Allied ground forces finally break out of the Normandy beachhead. As Davoud later told it, at Falaise "the thing happened that everyone prayed for – the Germans put their vehicles on the road without air cover. We went after them with rockets, bombs and cannon. In one day, north of Falaise, the tactical air groups destroyed 3,000 vehicles." As the battle began, Davoud accurately predicted that once German armour was forced out of its entrenched, well-camouflaged positions and on the run, "that is where we come in; we'll make a fortune." In his view, capable of hitting an individual tank with two, four or eight rockets, the Typhoon made the feared German Stuka dive-bomber "look like a baby's pram." The Typhoon was "a crackerjack weapon, working to a degree of accuracy which is amazing." The essence of the close-air-support role being played by his Wing was no better illustrated than by the fact "that the other day pilots were landing back on the strips within two minutes of firing their rockets." In terms of tactics, Davoud noted that his men dove at targets "from all angle, and from 100 to 2,000 feet or more. The effect is staggering. The tanks just break up or become infernos." Reports made special note of the fact that, as related by German prisoners, in addition to their enormous destructive power, the Typhoon and its various armaments had a devastating psychological effect: "And from the morale angle the Typhoons are great boosters for our own soldiers and great breeders of fear for the enemy. The sound effect alone is quite something – the normal thunder of a Typhoon engine, the horrifying 'swish' of the rockets and the noise of the cannon." Davoud himself was quoted: "If I were on a French road and saw a Typhoon coming? Well, I'd write myself off right then." Davoud also stated that his aircraft worked entirely at the call of Allied ground forces, "leaving the Spitfires to cope with the Luftwaffe." Thus, one war-correspondent concluded: "As a fighter, bomber, dive-bomber and firing the deadly rocket projectiles, the Typhoon clearly is making history." Other newspaper reports also highlighted the devastating role of the Typhoon over the Falaise "killing ground," in one instance describing Typhoon pilots as having had a "picnic." On August 16, 1944, the Ottawa Journal published a group photograph of No. 440 "City of Ottawa" Squadron taken at its Normandy ALG. As the squadron was part of his wing, Davoud was identified in the picture standing under the enormous prop of a Typhoon around which the squadron, as well as other senior Wing and airfield officers, were posed. On August 31, No. 143 Wing led by Davoud staged through ALG B-24 at St. Andre-de-l'Eure on their way to new base B-48 at Amiens/Glisy. From here, following advancing Allied ground forces, the Wing would move to a field near Brussels, then Eindhoven, The Netherlands, and, finally, to a base inside Germany proper.
One of the most interesting profiles of Davoud in Normandy appeared in the February 17, 1945, edition of Saturday Night under the title "Davoud of the Tiffies, Known as the Brain." In the words of author Leslie Roberts: "According to those who have flown with him and those who work for him in his Wing, living on an airdrome, which, at this writing, is within two or three miles of the German lines, Paul Davoud has the best organized mind in anybody's air force, anywhere, a statement which covers a considerable amount of territory." The account speaks of the respect with which the "Tiffie" pilots regarded their Commanding Officer, having been heard to refer to him as "The Brain": "The young men who fly for him consider the ground over which he walks hallowed, if damp." One of Davoud's officers is quoted thusly: "The Boss can tell you anything from the silica content of Norman dust to the location of every lake in the Northwest Territories." Dust in Normandy was, in fact, an extremely serious issue on a number of levels, including engine damage to aircraft and poor visibility: "Davoud took it apart and reported to London on its makeup, with the result that the R.A.F.'s dust-experts came hastening to Normandy and fitted the Sabres with filtering devices which cured the ailment and kept 'em flying." According to this account, Davoud was not infrequently called away from his forward base to confer with senior officers at Supreme Allied Command.
Other accounts highlighting Davoud appeared in the Canadian press around this same time. In late February 1945, Davoud praised the excellent coordination of 2TAF in its close army support operations both leading up to D-Day and currently on the ground in Normandy. In March 1945 newspaper accounts, Davoud described the rocket-armed Typhoon as "the flying artillery … credited with tipping the balance more than once in critical stages of the fighting since D-Day on the beaches of Normandy." Davoud gave an example of the aircraft's effectiveness as demonstrated during the Falaise Gap operation when a tightly-packed formation of German armour was spotted: "One of our Typhoons saw them. He yelled back on his radio for help and went down on them himself. We got 89 Panther and Tiger tanks that day with the loss of three Typhoons. They told us later that day's work was the equivalent of what might have been done by two armoured divisions." On New Year's Day 1945, Davoud was among RCAF personnel recognized on the King's New Year's Honors List as "Mentioned in Dispatches." In June 1945, he was among Canadian service personnel honoured in the King's Birthday List of Decorations, receiving a second O.B.E.
In the latter stages of the war, the success of the Typhoon led to it being used in commercial advertising as an example of how technology developed by military aircraft designers would be applied to future developments in civil aviation. Hawker-Siddeley also cited the Typhoon in advertisements for automobiles it planned to market post-war, reminding potential customers that the same engineering group would produce these vehicles. In fact, all the cars produced after the war by the Hawker-Siddeley motor vehicle section bore the names of successful wartime aircraft, including the "Lancaster" and the "Hurricane". The "Typhoon" itself was marketed as a two-door sedan. Hawker-Siddeley owed the post-war marketability of the Typhoon in no small measure to the achievements of Paul Davoud's No. 143 Wing.
LINKS: