Manley Ignatius Fraleigh J9388
April 28, 1921 - August 19, 1943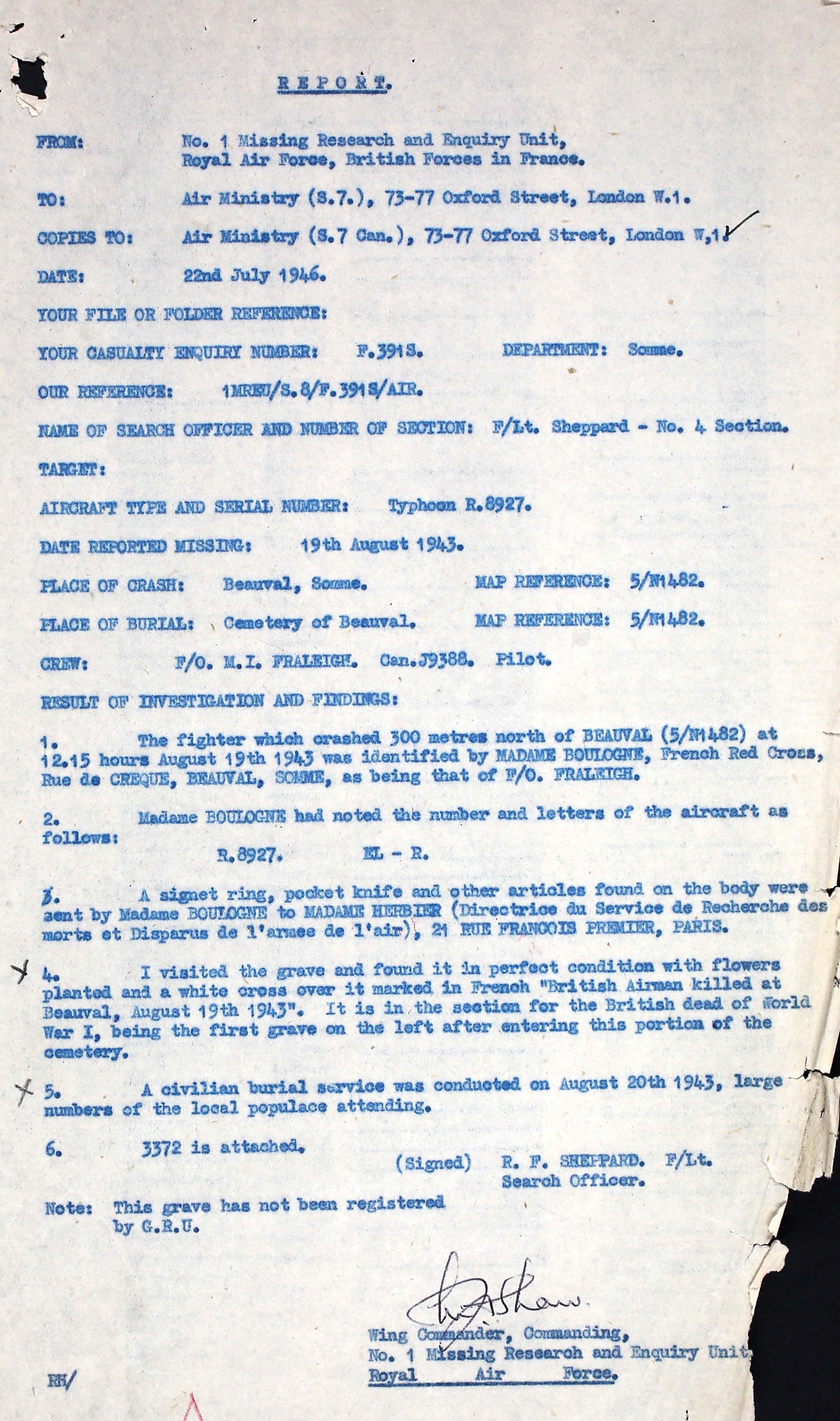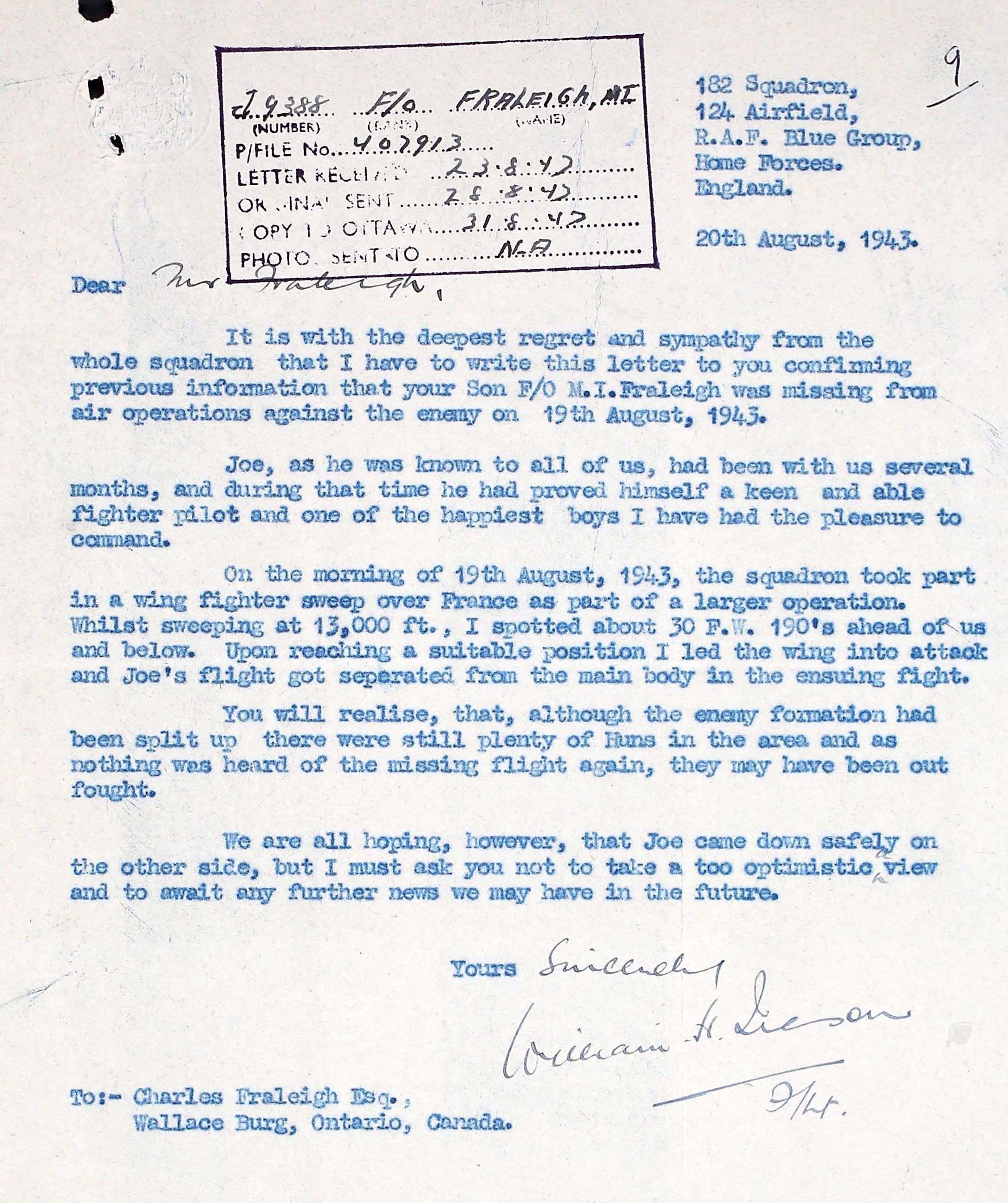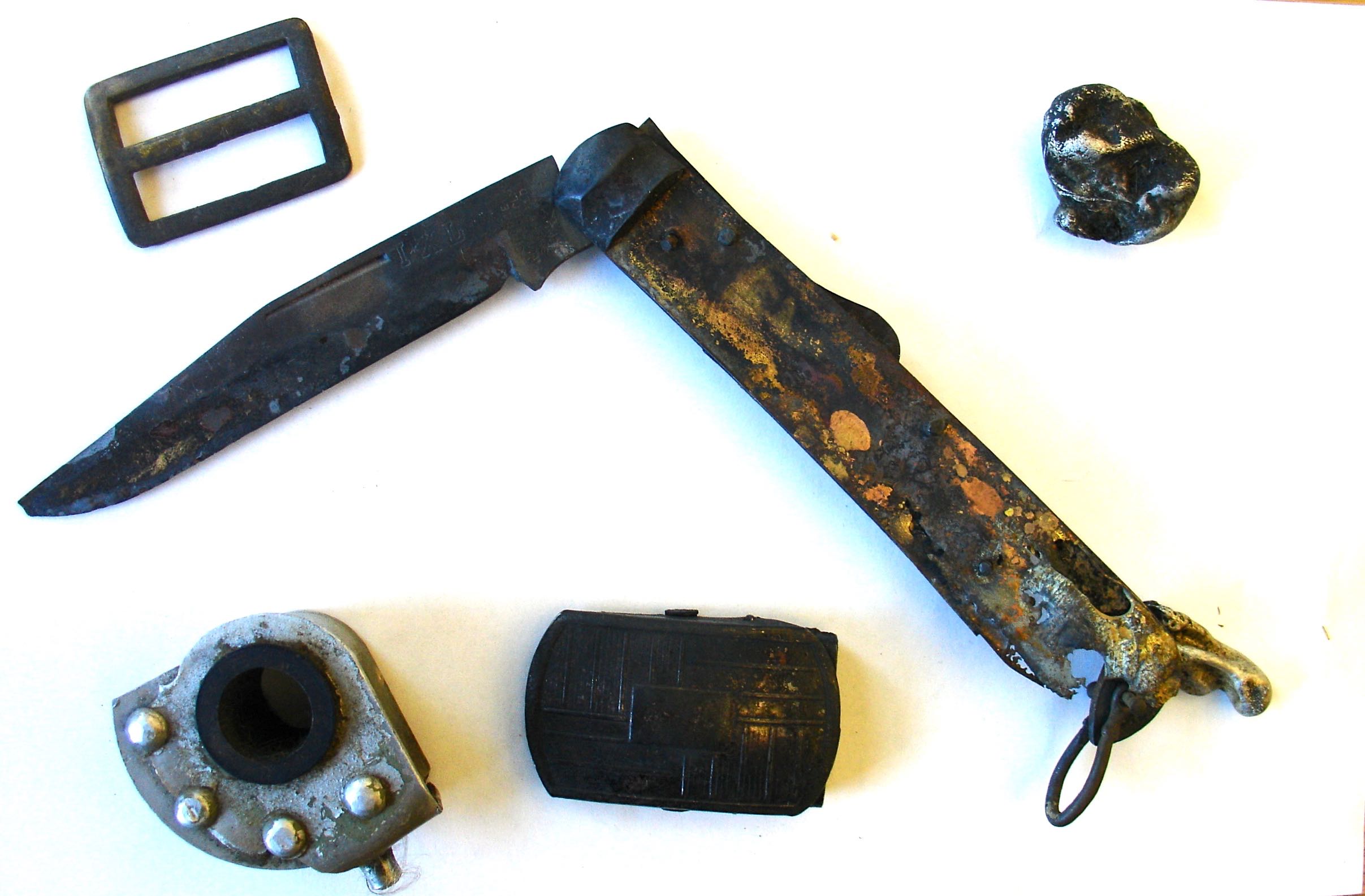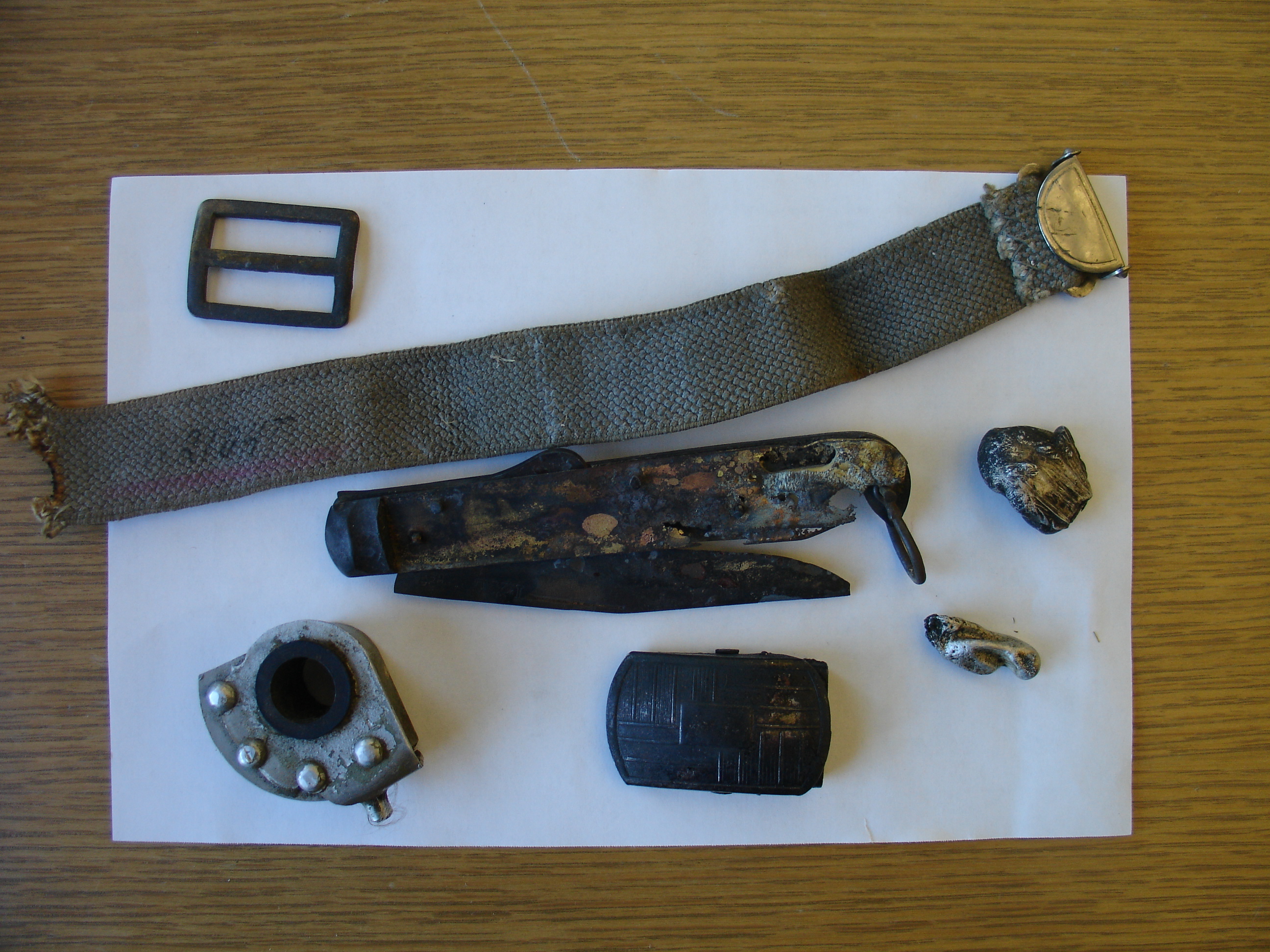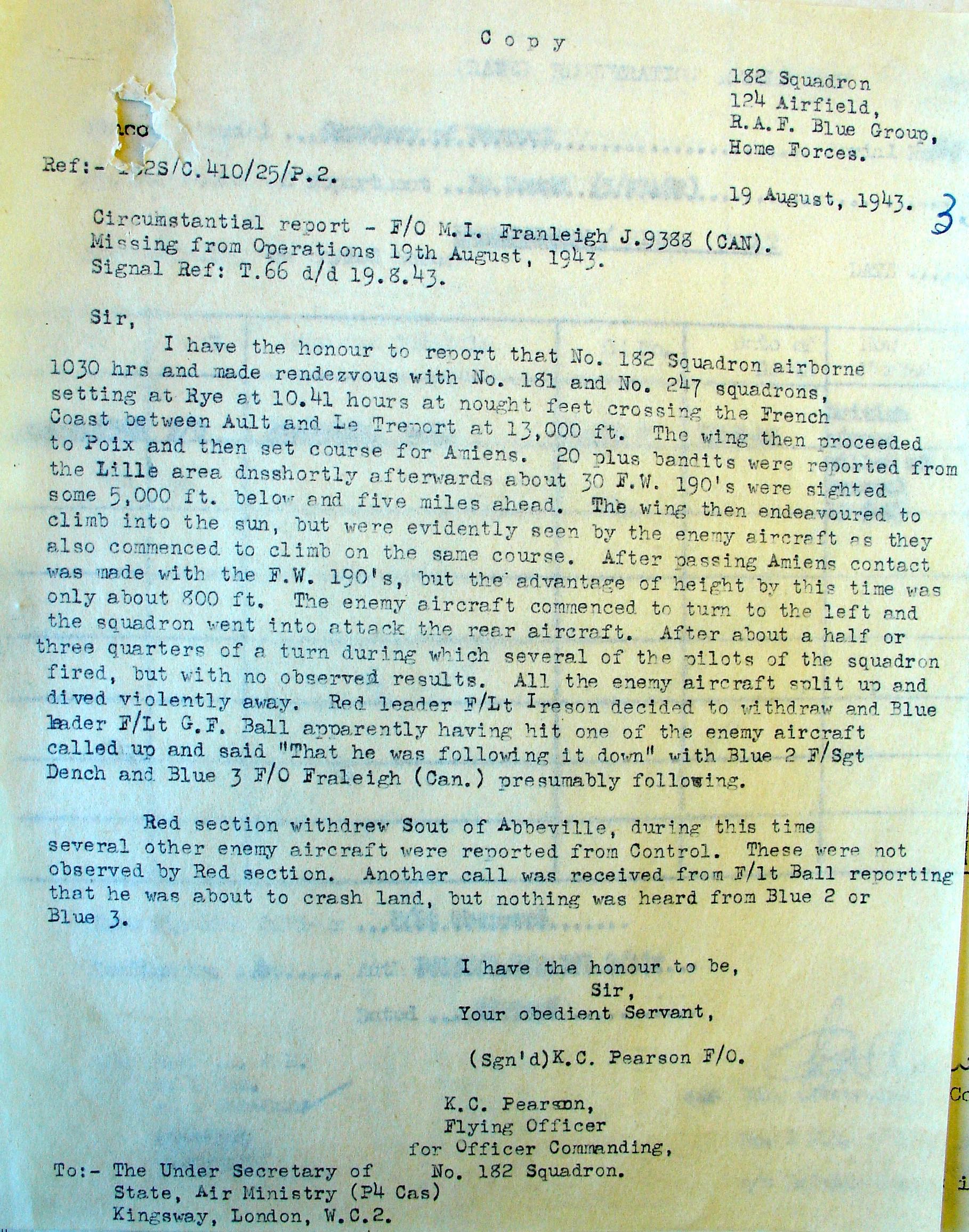 RAF 182 Squadron
Manley Ignatius Fraleigh was born in Wallaceburg, Ontario to Charles Joseph and Lulu Marie J. (nee Lane) Fraleigh. He had two brothers and one sister. The family was Roman Catholic.
He indicated he could speak French, as he took it for five years in school. He was a 'native' English speaker. He enjoyed playing hockey, baseball and liked swimming. He built model aeroplanes. He stood 5' 3 1/2" tall, weighed 122 pounds and had a dark complexion with brown hair and brown eyes.
Fraleigh was with the 1st Bn Kent Rgt, London, Ontario, as a Private, from August 13, 1940 until he enlisted with the RCAF in May 1941. He had been an unemployed machine operator/mechanic with Wallaceburg Brass prior. "Candidate in Battle dress. Has complete Junior Matriculation. Gentlemanly. Respectful. Does not impress as officer material. Good NCO type."
At No. 1 ITS: July - August 1941: A conscientious, cool, immature young airman who is quite confident in his ability. Should make the grade successfully. Second Aircrew Recommendation: WAG."
At No. 3 SFTS: August 8, 1941 - September 25, 1941: "An average pilot. Very dependable and hard working. Needs more practice on aerobatics and is a good average instrument pilot. His handling of the controls be smoother. Should make a good single engine pilot." Ground Training: "Unsuitable for commissioned rank. Learns quickly, quick at grasping ideas. Normally sociable and popular. He needs assistance before he is ready to take the initiative. Moderately favourable appearance."
At No. 14 SFTS: September 25, 1941 - December 19, 1941: "An above average pilot, recommend as an instructor. Alert and obserant in the air with good air sense, very quick reactions. Conduct and deportment well above average. Above average intelligence. Should make a very good officer, pleasant, quiet manner, conscientious worker, is always keen." Fraleigh was awarded his Pilot's Flying Badge on December 19. 1941.
By January 1942, he was at the RAF Trainee's Pool. He was sent to Egypt on July 1, 1942. By January 1943, he was back in the UK at No. 7 (P) AFU.
Between March and May 1943, he was on Course No. 47 at No. 55 OTU before being posted to 182 Squadron, New Romney, UK. "A keen good average pilot has plenty of common sense and should make a good leader with a little more experience."
On August 19, 1943, 'Joe' as he was fondly known to his squadron mates, went missing from air operations. He was flying Typhoon R.8927. He had been with the squadron for several months, and the F/L indicated that Joe was keen and able and one of the happiest boys he had the pleasure to command. "On the morning of the 19th of August 1943, the squadron took part in a wing fighter sweep over France as part of a larger operation. Whilst sweeping at 13000 feet, I spotted about 30 FW 190s ahead of us and below. Upon reaching a suitable position, I led the wing into the attack and Joe's flight got separated from the main body in the ensuing fight. You will realise, that, althought the enemy formation had been split up, there were still plenty of Huns in the area and as nothing was heard of the missing flight again, they may have been out-fought. We are all hoping, however, that Joe came down safely on the other side but I must ask you not to take a too optimistic view and to await any further news we may have in the future."
In December 1944, Mrs. Fraleigh wrote that a 'most treasured article', his photograph album of snapshots in Jerusalem were not among the articles listed when they were first informed of Manley's death.
On December 16, 1945, Mrs. Fraleigh wrote to the Canadian Red Cross, hopeful that her son was still alive, that perhaps he lost his memory. Maybe he was in a hospital. She described Manley's appearance, height, and told them he was wearing his high school ring as well as a gold signet ring of hers. She wondered, too, if he might have become a POW. (See letters in digitized files.)
In December 1946, the Fraleighs received additional information. "Your son's aircraft had crashed 300 metres north of Beauval, Department of Somme, France and his body was buried in Beauval Cemetery. A civilian burial service was conducted on August 20, 1943, large numbers of the local populace attending. The grave was in good condition with flowers planted and a white cross over it marked in French with "British Airman killed at Beauval, August 19, 1943."
Fraleigh gave part of his pay to his parents, as his father was unable to work. In February 1947, Mr. and Mrs. Fraleigh received a letter telling them of the location their son's grave. They asked for more information. Later, his parents requested that all of his personal belongings be returned to them including his steamer trunk, camel hide suitcase, camel hide club bag, tropical uniforms, two officer's uniforms, camera, watches, books, and photo album. "They will be our only comfort and they all belonged to him." They did receive one of their son's rings, a signet ring, missing a ruby -- very badly bent, but they appreciated having it.
Within the files at the LAC, the items in the photo above were discovered: jack knife, parts of a parachute, a buckle and a piece of a strap, along with one piece of metal melted beyond recognition.
Photos of Fraleigh are from No Return Ticket - Wallaceburg's War Casualties and Selected Wartime Memories written by Alan Mann; copyright 2002; published by Standard Press, Wallaceburg, Ontario. Mr Mann was Wallaceburg's historian.
LINKS: