George Frederick Burden J88715
April 4, 1923 - May 3, 1945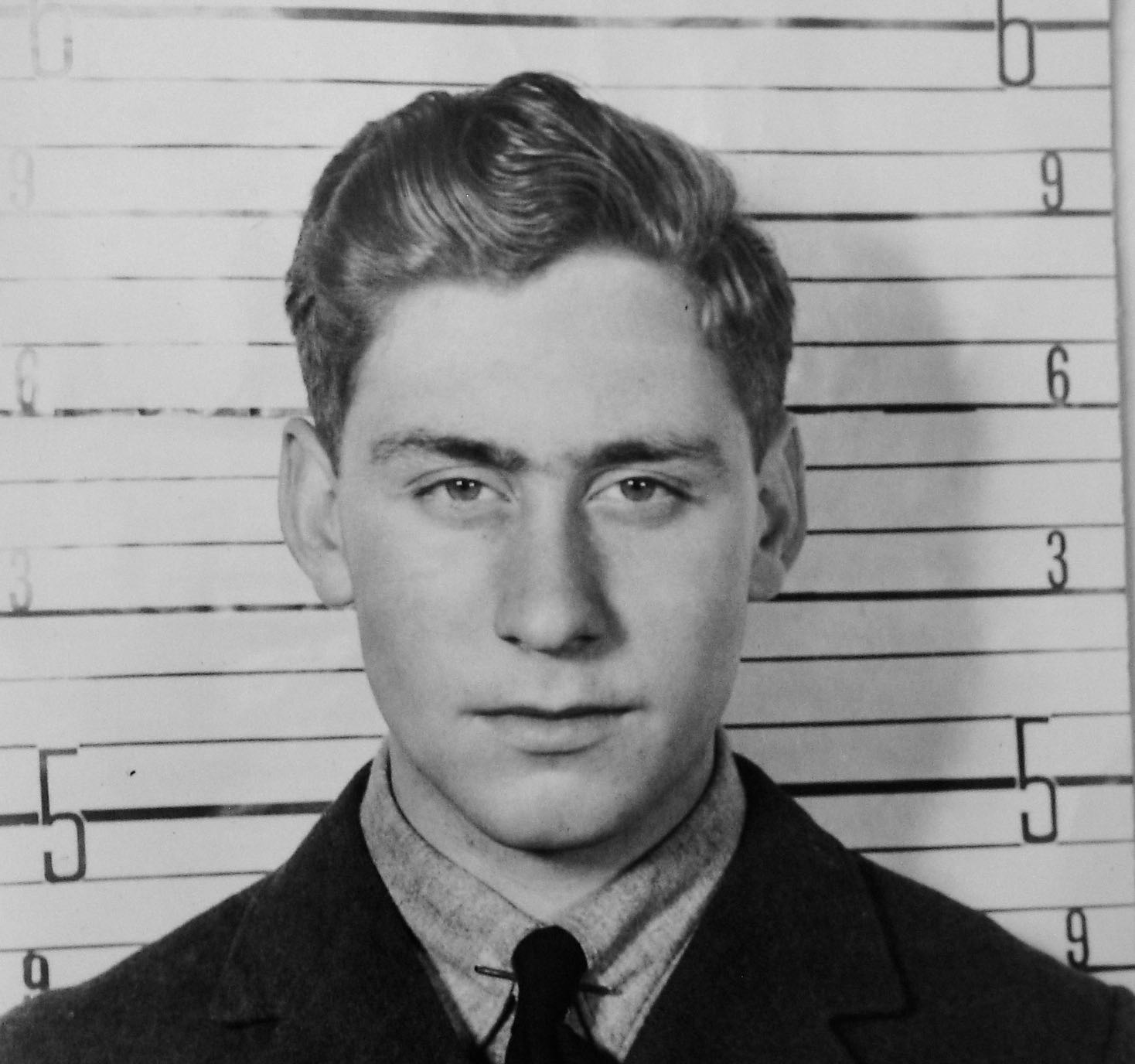 439 Squadron
George Burden was born in Fredricton, New Brunswick to Edward Estabrooks and Myrtle M. (nee Hoyt) Burden. He had one brother serving in the RCAF and one sister, still in school. The family was Baptist. Burden was a student on scholarship at Acadia Academy in Wolfville when he enlisted on August 6, 1941 in Moncton, New Brunswick. He listed that he liked to sing on his attestation papers.

On December 9, 1941, he was assessed as "younger than average, mild, a little shy. Has average intelligence. Will gain in emotional stability and self-confidence as he gets experience. Responsible. He is a very good prospect for Aircrew. Nice personality. Gentlemanly. Evidence of clean living and good home atmosphere. Well spoken. Noted for Observer training because of his fine marks in Math. (Made over 90% in Algebra, geometry, and trigonometry in Grade XI."

Prior to receiving his wings at the end of July 1942,, Burden was assessed as possibly having Chorea. Although he was found fit, his actions were "very peculiar," states the physician. "He could not sit still and continually made non-purposeful movements with his hands and face." Burden graduated and was sent overseas.

From the 439 Squadron War Operations Record Book: May 3, 1945: "Blue Section found another train just west of Pinneberg. A dive on this was met by a hail of light flak from the train. J88715 F/O George Burden, flying as Blue Two received a direct hit and his aircraft burst into flames. He crashed on the northern outskirts of the village of Esingen."

On May 6, 1945, Mr. and Mrs. Burden received a letter from S/L Beatty telling them what happened to their son. "Your son George went out on a dive bombing operation with the Squadron at 0805 hours on the 3rd May, for the purpose of cutting German railway supply lines. The target was exceptionally well hit, and subsequently an armed reconnaissancce was carried out to discover attack enemy movement. A locomotive was spotted presumably carrying supplies, and this was attacked with cannon fire, but a heavy hail of flak was thrown up that scored a direct hit on George's aircraft causing it to catch fire. He did not call up on the radio whilst going down, perhaps due to the fact that he was trying to regain control. The aircraft crashed on the northern outskirts of the village Esingen which is about five miles south-east of the town of Elmshorn, on the Elmshorn-Hamburg railway line, but George was not seen to have baled out or get out of the aircraft after it had crashed...George was only with the Squadron since the 29th April, but in that short period of time, he became a firm friend with all the pilots, some of whom he had known previously, and he was quite at home in Squadron life. I considered him a strong asset in view of his previous operational experiences and was expecting to unload some of my responsibilities onto his shoulders due to the impression he created between the Flight Commanders and myself."

A letter dated 20th, November 1945, written by G.C McDougall to the Records Officer stated: "No. 439 RCAF Squadron reported that Typhoon aircraft SW.443 piloted by F/O Burden, left base to carry out a dive bombing attack on the railway line near Pinneberg, Germany. This aircraft was seen to be hit by enemy flak while attacking a train and crash in flames approximately 15 miles North-West of Hamburg, Germany, at 08.40 hours on the 3 May 1945. F/O G.F. Burden was not seen to bale out and in view of this information, he was classified as 'Missing Believed Killed in Action.' The wreckage of this aircraft was located near Elmshorn, Germany. The report further states that the pilot was killed and that his body was removed by the Germans for burial."

On October 16, 1946, Mr. Burden wrote to the Honouraable Colin Gibson, Minister for Air. "Dear Sir: I had two sons. Soon after the war started, my oldest boy enlisted as a pilot in RCAF and served as a bomber pilot. He won the DFC and brought a Lancaster back across the Atlantic on his way to the Pacific. My youngest boy had to wait until he was eighteen to enlist and he became a Spitfire pilot on which he did his first tour. He went back on his second tour on Hurricanes, had just got in when he was shot down on May 3, 1945 near Hamburg. His grave has not yet been found. He also was enlisting for the Pacific.

"After several months, we received word from a girl in England that she was the mother of his baby boy. They were never married. My boy's name is F/O George Burden, J88715. He had told his older brother about this, whom he met in England several times, but did not wish anyone to tell his parents, until he first did.

"He provided money for [Dorothy] and also gave her proof of parentage with the help of which now she gets a pension from the Canadian Government. .....It took a lot of persuasion to get the girl to consent to bring the baby to us....We are making a home for both the girl and the baby. This we are very glad to do and anxious to do."